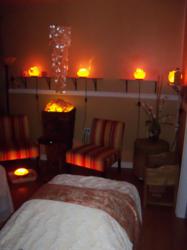 relaxing as the Himalayan salt lamps cast a beautiful, warm glow is truly a wonderfully, calming experience
Commack, Long Island, New York (PRWEB) April 30, 2013
Adorned with beautiful Salt Lamps, hundreds of pounds of salt chunks and even foot detox domes made of Himalayan Salt, Hands On welcomes couples from Long Island to bask in tranquility in their newest, unique Himalayan Salt Suite with Couples Massages and Spa Treatments.
Himalayan Salt is said to purify air and promote good health. Crystallized over 250 million years ago, ancient sea beds were covered by lava, protecting the salt from modern-day pollution, and lending to the belief that Himalayan salt is the purest salt to be found on earth. Many claim that these salts have a variety of health benefits. Marla Kaplan, Director, states, " We don't know if any of these claims regarding the benefits of Himalayan salt are true, but we do know that relaxing as the Himalayan salt lamps cast a beautiful, warm glow is truly a wonderfully, calming experience." Enjoy the beauty of nature with a breathtaking Himalayan Salt Tower. Chromotherapy (color therapy) believers will find that the soothing light is often mood altering and reduces the suffering of insomnia. In addition, Kaplan continues, "We want to assure a "breathe easy" experience and have even incorporated the use of an air purifier in the Suite."
Celebrating Love has become a traditional part of this Wellness Day Spa located in central Long Island. Hands On offers a complete Couples Spa Date Menu and a total of three Suites, in addition to Couples Rooms. The two other Couples Massage and Body Treatment Suites offer lovely fireplaces and a feeling of romance. However, moms and daughters or friends and family feel comfortable in the duo oriented rooms. Spa experiences at Hands On are very intimate and private. Couples share a unique experience with each other that they cannot find elsewhere.
Hands On HealthCare Massage Therapy and Wellness Day Spa has been serving the Commack Community since 2000. Hands On HealthCare Massage Therapy is a recognized leader in Advanced Medical Massage in Suffolk County, Long Island. Medical Massage is often the answer regarding pain, injury and disease. Hands On offers Pre-Natal and Post-Natal Massage, Sports Massage, Trigger Point Therapy, Myofascial Release, Manual Lymph Drainage and is a recommended community provider for Memorial Sloan-Kettering Cancer Center. The Spa Services Division offers spa treatments such as facials, skincare, microdermabrasion, body treatments, permanent makeup and para-medical cosmetics and cellulite reduction through ultrasound cavitation (Cavi-Lipo). The Wellness Day Spa has an extensive Couples Massage Spa Date Menu. Spa Parties are a specialty. An array of services and packages are available for both on and off-site. Beyond the Spa Services include off-site on-site workplace of event Mobile services which include bringing the day spa to the doorstep at home, venue or corporate function. Common events include bachelorette parties, showers, birthdays, Bar and Bat Mitzvahs, Sweet 16 Corporate Events and functions. Hands On HealthCare Massage Therapy claims it's licensed massage therapists and estheticians provide clients with the ultimate experience in attention, service and care.
Hands On HealthCare Massage Therapy and Wellness Day Spa
Marla Kaplan-Pelle, Licensed Massage Therapist, Certified Lymphatic Therapist, Director
208 Commack Road, Commack, NY 11725
631.462.4263