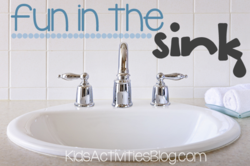 Teach the kids about buoyancy while playing in the sink.
Dallas, TX (PRWEB) April 29, 2013
Over 10 fun ideas to play with water and a cool sink or float experiment with water for any child have been released on Kids Activities Blog.
All kids love to play with water. Playing inside the sink may get a bit messy, so be prepared. The water play ideas will sneak in learning while the kids are having a blast.
The ideas include creating a sensory treasure hunt bin in the sink, taking a rainbow sudsy sink bath, creating an underwater sea adventure in the sink, and a cool toy freeze game.
Other ideas include cooking games in the sink and lots of boredom buster sink activities. If the child is science minded, let them gather a few of their favorite toys such as Legos to work on a sink or float experiment. Even the adults will be amazed at what really floats and what sinks.
Teaching about buoyancy and taking scientific notes will sneak in a bit of learning while they are having a lot of fun.
For detailed instructions and to get additional fun water play ideas, check out Kids Activities Blog this week. Come get inspired to let the kids have a blast playing in the sink.
About Kids Activities Blog
Kids Activities Blog is a website created by two moms (who collectively have 9 children), Rachel Miller and Holly Homer from June Cleaver Nirvana. It is their daily goal to inspire parents and teachers to play with kids. This interactive website publishes simple things to do with kids twice a day. Kids Activities Blog is a great tool for moms and teachers to find kid-friendly activities that create memories and sneak learning into the fun.