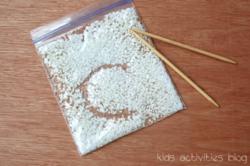 The learning how to write sensory bags are mess free and can turn into freezer bags for injuries.
Dallas, TX (PRWEB) April 30, 2013
Fine motor skills development activities that make writing fun have been published on Kids Activities Blog. These activities are super easy to do and the kids will have a blast learning how to write with the squishy sensory bags.
Making the sensory bags is easy. Simply break apart styrofoam packing material. Doing this outside will keep the carpet clean. Put a handful of styrofoam pieces inside a zip lock bag together with hair gel, squish it around until all beads are sticky, and ready is the writing sensory bag.
The bag can be used as a writing board by using chop sticks as pens. The traces will be imprinted in the bag. The bags make great sensory experiences for babies and when placed in the freezer can cool injuries.
Other great ideas to make learning how to write fun include making sticky sticks that the kids can mold and shape into letters, making a mini-white board out of a CD case, and playing a fun letter guessing game.
For detailed instructions and to get additional learning how to write ideas, check out Kids Activities Blog this week. Come get inspired to let the kids have a blast while learning how to write.
About Kids Activities Blog
Kids Activities Blog is a website created by two moms (who collectively have 9 children), Rachel Miller and Holly Homer from June Cleaver Nirvana. It is their daily goal to inspire parents and teachers to play with kids. This interactive website publishes simple things to do with kids twice a day. Kids Activities Blog is a great tool for moms and teachers to find kid-friendly activities that create memories and sneak learning into the fun.