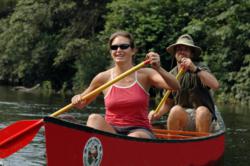 "So maybe responding to increased demand with lower prices isn't so crazy after all," she said.
(PRWEB) April 28, 2013
Tourists arrived in record numbers in Belize during the first quarter of 2013, prompting one popular eco resort to do something that has industry professionals scratching their heads – offer discounts.
The Lodge at Chaa Creek, one of Belize's most highly awarded eco resorts, is offering some attractive deals over the coming months, according to assistant general manager Bryony Fleming Bradley, who said that the move is "our way of celebrating the good news for Belize."
Last week the Belize Tourism Board released a report indicating that the country saw a record number of tourist arrivals for the first quarter of 2013, with airport arrivals alone up over 10% for March and an increase of over 13% for all overnight arrivals from January to March this year.
The BTB's director of tourism, Laura Esquivel Frampton, said that figures point towards a healthy trend that is expected to continue. "This is of course fantastic news for Belize," Ms Frampton said.
Ms Fleming Bradley agreed, and said that Chaa Creek's response will be to "Make Belize even more accessible to an even wider range of people by cutting prices while expanding our range of holiday options for families, couples, individuals and groups.
"One of the main things driving our Belize tourism industry growth is positive word of mouth, and we want to keep that momentum going by ensuring that our guests have an incredible time while also feeling that they've received great value. So in light of that, we're now offering 20% off all rooms from now until the 14th of June 2013.
"We're also offering some great deals on our all-inclusive Belize vacation packages. For example, we're discounting our "Swimsuits and Hiking Boots" rainforest and reef combination package by 10% for the entire month of May, and the deluxe "Moveable Feast" package, considered to be the crown jewel of Belize luxury tourism packages and which we offer in conjunction with two of Belize's best Caribbean eco resorts, will be discounted by 10% for all of June, July and August.
"When you consider what's included in our all-inclusive packages, which is basically everything, the discounts represent huge savings," she said.
The Lodge at Chaa Creek sits within its own 365 acre private rainforest reserve and features a range of accommodation, from casual-luxury thatch roof cottage rooms to tree-top and Jacuzzi suites surrounded by tropical gardens. The eco resort features a fine dining restaurant, Jungle Lounge, Butterfly farm, professional Hilltop Spa, pool and a wide range of amenities and activities including jungle horseback and mountain bike riding, canoeing, and guided nature walks and birding.
Chaa Creek is also known for its signature all-inclusive Belize vacation packages catering to a variety of interests, including Maya temple exploration and surf and turf Caribbean options through its "Rainforest to Reef" partners. Ms Fleming Bradley said the all-inclusive Belize vacation packages include everything, from accommodation, all meals, transfers, activities, access to Chaa Creek's 365 acre nature reserve with over 70 ancient Maya archaeological sites and temples, and all staff gratuities and government taxes.
"By taking the guesswork, risks and hidden costs out of a Belize holiday, and doing it at one set price that would be impossible to do on one's own, our packages let guests relax and get to know and love Belize", Ms Fleming Bradley said, "and that's why people tell their friends and keep coming back."
"So maybe responding to increased demand with lower prices isn't so crazy after all," she said.