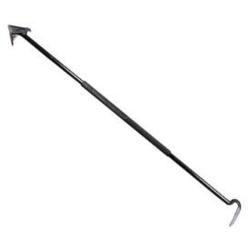 The Eagle Hook is a true multipurpose fire tool that offers firefighters the ability to work more effectively...
Neptune, NJ (PRWEB) April 29, 2013
Firefighters use a wide variety of fire tools to carry out their mission of saving life and property from the threat of fire. These tools include power saws, flashlights, ventilation fans, fire hose, rope, nozzles and other dynamic fire equipment. Firefighters also commonly use "fire hooks," which are long pole tools that perform various functions at a fire scene depending on the hook's head shape and length. These fire hooks are commonly used for opening and ventilating walls and ceilings, accessing roof vents, prying, tearing, peeling and more. The value of these simple but effective tools can never be overstated in one form or another, fire hooks are found on virtually every fire truck in America.
A brand new fire hook, known as the Eagle Hook, has recently been introduced to the firefighting industry. The Eagle Hook boasts two designed heads on either end unlike many other fire hooks that have only one functional head.
The Eagle Hook features a Universal Head on one end which consists of a pointed upper blade for piercing and an angled lower blade for pulling and slicing. This Universal hook head is used during initial fire operations while "finding the fire" or during overhaul operations and other situations where quick access into walls and ceilings are required.
The opposite end of the Eagle Hook ends in a small, sharply pointed Boston Rake Head for use in tight spaces. This end is used for piercing and penetrating barriers and grabbing objects that cannot be grasped with the hands due to heat or distance. It can also serve as a handle for a gloved hand to maximize pulling power when the Universal end is in use.
The Eagle Hook's main body is a durable aircraft steel shaft with a Celtex foam "eagle grip" for maintaining a solid hold on the hook while operating in various fire emergency situation.
Don Colarusso, President of All Hands Fire Equipment and firefighter for over 25 years has says "The Eagle Hook is a true multipurpose fire tool that offers firefighters the ability to work more effectively." He adds, "This hook and its many uses are an excellent money saver for fire departments in cities and towns that are seeking money saving equipment alternatives."
All Hands Fire Equipment is a retailer and distributor of firefighter equipment and fire tools with thousands of satisfied customers worldwide. In addition to the Eagle Tool, All Hands Fire also provides tried and true firefighting gear solutions like the Halligan Pro Bar, the New York Roof Hook, and a number of All-Purpose fire Hooks and Multipurpose fire hook options.
For more details on the Eagle Hook and thousands of other firefighter tools, please visit http://www.allhandsfire.com