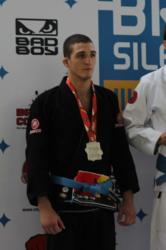 Naples, FL (PRWEB) April 28, 2013
Two Brazilian Jiu Jitsu coaches from Naples traveled across the globe to Sao Paulo, Brazil to test themselves in their sport's homeland, bringing home two more Grand Slam medals for their team.
Coaches Joseph Ruggiero and Joseph Formica, both blue belts and members of Team Third Law BJJ & Muay Thai, brought home silver and bronze medals respectively from the Campeonato Brasilero, or Brazilian Nationals.
Known as one of the sports toughest events, Brazilian Nationals is the third in the series of four BJJ tournaments known as the Grand Slam.
Ruggiero, who has been training for four years, won five matches in his blue belt middleweight division. He won four matches by submission on his way to the silver medal, and one by referee decision.
Formica, who has been training for three years, won three matches in his blue belt middle heavyweight division. He won two of his fights by submission, one by points.
At the first Grand Slam tournament in 2013, the European Open in Lisbon, Portugal, Formica won gold in his weight class and bronze in the open weight class. Ruggiero took silver in his division.
Then in March, the team traveled to Los Angeles, California for the next in the series -- the Pan American Championships. There, Ruggiero took gold in his weight class and bronze in the open weight.
Now, Third Law's Grand Slam team has its sight set on the final of the four, the World Championships. In just a few weeks, they'll travel to Long Beach, CA to put themselves to the test yet again.
If you're interested in Brazilian Jiu Jitsu or Muay Thai Kickboxing classes for kids or adults, Team Third Law offers a 30 day free trial. Call today to get started, 239-628-3LAW (3529), visit us at 5707 Shirley Street in Naples or online at http://www.teamthirdlaw.com