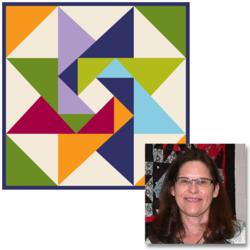 Ms. Hageman's grand prize design will be displayed as a 17-foot barn quilt at the AccuQuilt Omaha, Neb. headquarters.
Omaha, NE (PRWEB) April 30, 2013
On April 26 at the AQS-Paducah Quilt Show in Paducah KY, celebrity quilter and AccuQuilt spokesperson Ricky Tims announced the grand prize winner - Sue Hageman from Riley, Kansas and runner-up winner - Lee Monroe from Winston-Salem, North Carolina.
Ms. Hageman's grand prize design will be displayed as a 17-foot barn quilt at the AccuQuilt Omaha, Neb. headquarters and will be unveiled June 7 during the Barn Quilt Unveiling Event with special guest, Ricky Tims. Her quilt design will be seen by thousands of people as they travel by on Interstate 80 as well as prominently displayed to visitors of the AccuQuilt Gallery. Her prize package includes a $750 AccuQuilt shopping spree, roundtrip airfare to Omaha for the unveiling ceremony at the AccuQuilt offices, two tickets to the third annual Let's GO! Quilting Retreat in Fremont, Neb. in early June, as well as a variety of exciting sewing prizes and bundles.
Monroe's beautiful runner-up design will be displayed as a five-foot barn quilt at the AccuQuilt Omaha headquarters, greeting employees as well as visitors to the Gallery and various events throughout the year. Her prize package includes a $350 AccuQuilt gift certificate, one ticket to the third annual Let's GO! Quilting Retreat, and other sewing and quilting incentives.
This year, AccuQuilt management had the difficult task of narrowing more than 500 entries down to the top 100 quilt block designs. Voting was opened up to the public who helped further narrow the top 100 designs down to the top 10. Finally, with the help of celebrity quilt judges, Eleanor Burns, Alex Anderson and Ricky Tims, Ms. Hageman's and Ms. Monroe's designs were selected as the top two.
Sue Hageman found her love for quilting about 10 years ago. She fondly remembers all the hand quilting her Grandmother Moyer did and used this as her inspiration when creating her own quilts. She especially likes appliqué, wall hanging quilts, and has a love for horses, barns, and of course, barn quilts.
"I am truly honored and still in disbelief that my submission was chosen," Hageman said. "I asked, 'how can you just pick one barn quilt design? There were so many beautiful ones!' I can't imagine a 17 x 17 foot block! It's exciting to be a part of the AccuQuilt Barn Quilt Contest and the Barn Quilt Trail. I just recently had the opportunity to meet the lovely Donna Sue Groves and her mother. It was amazing to meet them and see where the Barn Quilt Trail began! Thank You AccuQuilt!"
Runner-up prize winner Lee Monroe has been creating since she first discovered crayons at age two. A 17th generation quilter, she learned everything she knows from her mother, affectionately known as "The Guru." She enjoys designing patterns, teaching all types of classes, and sharing her adventures on her blog, http://www.maychappell.com.
"I was so excited when I found out I won that I called The Guru," Monroe said. "She was driving, so I told her to pull over to deliver the news!"
Also the week of June 7, AccuQuilt will be featuring the Let's GO! Quilt Retreats co-sponsored by Country Traditions Quilt Store and AccuQuilt. Country Traditions is located at 330 North Main, Fremont, NE. Find more information at http://www.countrytraditionsonline.com or http://www.accuquilt.com regarding retreats and activities during the week.
About AccuQuilt – Better Cuts Make Better Quilts®
Headquartered in Omaha, Neb., AccuQuilt offers quilters, fabric crafters and retailers, a premiere line of fabric cutters, dies, quilting patterns and other quilt and fabric cutting solutions that help quilters quickly and accurately cut shapes for quilting and fabric crafts. AccuQuilt also offers quilters a wide variety of rich educational resources to enhance their quilting experiences. Cutting with AccuQuilt cutters is a natural evolution of fabric cutting methods. "First scissors…then rotary…finally…AccuQuilt®" for fast, easy, accurate fabric cutting. Visit http://www.accuquilt.com for more information.