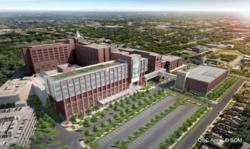 Denver, Pa. (PRWEB) April 29, 2013
High Concrete Group LLC is producing precast concrete components for a new Orthopedic and Spine Center (OSC). The new, 381,000-square-foot healthcare facility in Cincinnati, Oh., is scheduled for completion in 2015 and will provide orthopedic, spine and sports medicine treatment options for patients.
High Concrete Group was awarded the $6.7 million contract by Messer Construction Company, a full-service construction company specializing in healthcare facilities, located in Cincinnati. A total of 960 precast pieces will be erected starting in October 2013. The project was designed by Chicago-based Skidmore, Owens & Merrill, with local design representation from Champlin Architecture's Cincinnati office. Additional consulting services were proved by THP Limited, from Cincinnati.
The overall design will enhance the patient's experience by promoting peaceful, tranquil spaces that provide the best therapeutic environment. The exterior serves complex needs that blend the existing hospital buildings and historic neighborhood, while reflecting the innovative and modern treatments available at the new OSC. The precast concrete will be produced at High Concrete Group's Springboro, Oh. plant.
About High Concrete Group:
Headquartered in Denver, Pa., and employing more than 400 co-workers, High Concrete Group has provided precast components for more than 5,000 projects since 1957 and is found on Engineering News Record's list of the Top 600 Specialty Contractors. High Concrete Group has production facilities in Denver, Pa. and Springboro, Oh. The company also operates High Concrete Accessories, a Denver, Pa.-based national precasting embedment supplier. For more information, visit http://www.HighConcrete.com.