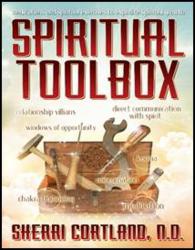 I wanted to give readers a diverse set of spiritual tools, all pulled together in one place.
Huntsville, Arkansas (PRWEB) April 30, 2013
Ozark Mountain Publishing is pleased to announce the release of the metaphysical guidebook, Spiritual Toolbox by Orlando, Florida author Sherri Cortland, ND. This is Cortland's third book in the metaphysical genre.
"Spiritual Toolbox is for lightworkers, truth seekers, and anyone who wants to communicate directly with Spirit, raise their vibrational level or expedite their spiritual growth," says Cortland.
In this expansive gathering of spiritual awakening and insight development tools, Cortland shares channeled information obtained during the on-going search for the truth of who we are and why we're here that she started with her first two books, Windows of Opportunity and Raising our Vibrations for the New Age.
In Spiritual Toolbox, Cortland provides channeled wisdom, meditations and spiritual exercises from her Spirit Guide Group, which were communicated through the process of automatic writing. She also includes teachings and techniques from other metaphysical professionals, combining their diverse approaches to create a how-to reference guide of spiritual development tools.
Some of the topics covered in Spiritual Toolbox include Higher Self, the Akashic Records, connecting to the Divine, Automatic Writing, Walk-ins, making the most of this incarnation, maintaining balance and wellness, crystal healing, chakra balancing, and direct communication with Spirit. A meditation CD is also included with the book.
"This is one incredible treasure trove of powerful spiritual principles and practices that will give you exactly what you need to accelerate the growth of your Soul," says Jill Lebeau, coauthor of Feng Shui Your Mind.
Paula Renaye, author of Living the Life You Love, agrees, "Spiritual Tool Box is a rich metaphysical encyclopedia and DIY guidebook for spiritual expansion that is at once enlightening, deeply moving and incredibly empowering."
Cortland notes that different processes are needed at different times and it is important to have options for gaining insight. "I wanted to give readers a diverse set of spiritual tools, all pulled together in one place, that they can use to raise their vibrations, expedite their Spiritual growth, and develop on-going and direct communication with their higher self and spirit guides."
When released in July 2013, Spiritual Toolbox will be available through http://www.Ozarkmt.com, Barnes & Noble stores, Amazon.com, Barnes and Noble.com, and the author's website, SherriCortland.com. As a special promotion, now through May 31st, the author is offering a special pre-publication package that includes 25% off the cover price of the book plus $60 in free gifts. This offer is available only on the author's website at http://www.SherriCortland.com, and only through the end of May.
###
About
Sherrie Cortland, ND holds degrees in English, Communications & Naturopathy, has studied Herbology for more than two decades, is a frequent guest on talk radio programs across the country, and will be a featured speaker at the 2013 Transformations Conference in July.
Spiritual Toolbox is published by Ozark Mountain Publishing, Inc., P.O. Box 754, Huntsville, AR 72740, 800-935-0045. The book will be available at neighborhood and online bookstores. Wholesale purchases can be made through Ozark Mountain Publishing, Ingram Book Company and New Leaf Distributing.
ISBN #: 978-1-886940-43-7 * 200 pages * Retail price $17 * Includes Meditation CD
Special pre-publication offer of $12.75 is available through SherriCortland.com through May 31, 2013.
Submitted by Jami Jones, Diomo Books