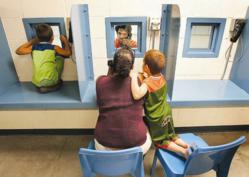 One factor that really helped my wife keep the household together while I was gone was our faith.
Chicago, IL (PRWEB) April 30, 2013
Dealing with the normal challenges of everyday life is hard enough. Add to that, the challenges that are faced when you have a husband or boyfriend that is incarcerated and things can get extra difficult much more quickly. Whether a loved one is locked up for a short or long period of time, there are ways to reduce this stress and make your life a little more manageable while a loved one is away.
Ex-inmate Rae Chisholm, a marketing rep for ColdCribCommunications.com, a reduced rate jail phone service tells how his family handled the pressures and expenses they faced while he was in Kentucky State Penitentiary for 3 years.
Chisholm said "One factor that really helped my wife keep the household together while I was gone was our faith."
Stay in Contact.
One important thing to remember is not to lose contact with a incarcerated loved one. Different ways to communicate while they are locked up are visits, phone calls, or writing letters. While each one is fulfilling in their own way, phone calls may be the best option for instant communication. Just be prepared because these calls can get pricey after a while because the calls are long distance and usually the jails phone provider is contracted by greedy corporate entities like Globel Tel Link or Securus. However, there are several companies who can help you make cheap jail calls to your loved one who is incarcerated. Some of the companies include Cold Crib Communications, Inmate Jail Calls, or Prisoner Connect, just to name a few.
"Over the long term it does help keep the costs of prison calls low," said Alisha Adams, the sister of an inmate who is currently doing time at San Quentin State Prison.
Save Money.
Saving money is one of the most essential ways to make your life easier while your loved one is away. Besides the obvious that your household now has only one income, there are also extra expenses that come along when dealing with the jail system. One of the easiest ways to save money is by simply clipping coupons. Learning how to clip coupons and shop effectively will help you save lots of money in the long run. Check out Where to Find Coupons to learn more about how you can save more money with shopping.
Take Care of Yourself.
Sometimes when taking care of all of your new responsibilities, it can be easy to forget to take care of yourself. Remember, that if you are not well, then the people who depend on you will suffer as well. Making sure to eat healthy and to exercise is of course important, but you cannot forget your mental and spiritual health as well. Praying and meditating can help to refresh the mind so that you can approach challenges feeling energized.
Get Support.
Seeking out a group of friends who have been or are in the same situation that you are in can be extremely beneficial. It is always helpful talking with others who know what you are going through and who can offer advice to you. It is also rewarding when you can involve others who may be new to the situation aslo and need help as well. There are lots of resources online for finding other women who have a husband or boyfriend who is locked up.
Remember The Children.
Although things may be different with your husband or boyfriend incarcerated, children still need to be children. Keeping their lives as close as possible to the way they were before will lessen the stress they may feel with their loved one not being around. Make sure they can still thrive in school, sports, and other normal activities by being supportive and receptive to their needs.
Practicing these different ways to cope can help you deal with the absence of a jailed loved one. Turning to family, friends, and church can also help in making things easier. Search online for support groups whose members are going through the same situation as you. A few of them are listed here.