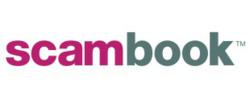 The offers are designed to obtain the consumer's personal information to sell to affiliate marketing groups or possibly identity thieves.
Los Angeles, CA (PRWEB) April 29, 2013
As the summer travel season gets closer, Scambook is issuing a consumer advisory for mail scams involving bogus free airfare vouchers and vacation package deals. Two fraudulent offers have begun circulating via mail. One promotes a non-existent airline called US Airlines. The second scam uses Travelocity's name and trademark logo without the company's authorization.
"We suspect that the bogus name 'US Airlines' was chosen because it's nearly identical to US Airways, which may confuse potential victims," said Kase Chong, Scambook's Director of Marketing.
The "US Airlines" scam arrives in the form of a letter offering free airline tickets. To redeem the offer, recipients are instructed to call a phone number and provide personal information. The false Travelocity offer works in a similar way. According to photos provided to Consumerist.com*, the Travelocity scam appears to be appropriating the company's real logo, although fine print specifies that the promotion is not sponsored by Travelocity.
Scambook cautions consumers to throw away these travel offer letters without calling.
"These letters are essentially phishing scams," added Chong. "The offers are designed to obtain the consumer's personal information to sell to affiliate marketing groups or possibly identity thieves. Even if the consumer does call and follow the necessary steps to redeem the offer, it's very unlikely that they will receive any airline tickets or vacation prizes."
To avoid falling for an airfare phishing scam, Scambook advises consumers to make use of the following 5 tips should they receive a letter:
1. Google the return address. If a letter claims to be from an airline or travel service but its return address does not match the company's official address, it's likely a scam.
2. Read the fine print. Examine the letter very carefully and keep an eye out for any asterisks or other fine print. If the letter states anything about restrictions or processing fees, this is a red flag. Remember that a truly "free" offer does not require paying anything.
3. If it's a prize, consider if any contests were entered. If recipients did not enter any vacation contest but the mailer includes phrases like "Congratulations" or "You're a Winner," it's unlikely to be legitimate.
4. Be on guard for third-party senders. Some credit cards and other consumer loyalty programs will give away free offers from other companies. If the mailer received is sent by the consumer's credit card company or another group, Scambook recommends that the consumer call their company at a number obtained from the company's website instead of the mailer.
5. Never respond to a mailer that requests a wire transfer or prepaid credit card as payment. This is always a sign of a scam.
ABOUT SCAMBOOK
Scambook is an online complaint resolution platform dedicated to obtaining justice for victims of fraud with unprecedented speed and accuracy. By building communities and providing resources on the latest scams, Scambook arms consumers with the up-to-date information they need to stay on top of emerging schemes. Since its inception, Scambook has resolved over $10 million in reported consumer damages. For more information, visit scambook.com.
*Morran, Chris. "No, You Did Not Randomly Win A Vacation From Travelocity." http://consumerist.com/2013/04/25/no-you-did-not-randomly-win-a-vacation-from-travelocity/