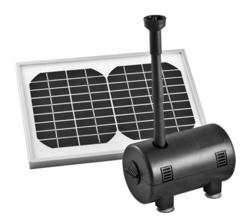 PondMAX is the much higher quality version of the solar pump
Sydney, Australia (PRWEB) April 29, 2013
Keeping a flowing and aerated backyard pond without rising electricity bills is now possible. The affordable and reliable PondMAX solar pumps are environmentally friendly and are also an effective solution in situations where power is inaccessible. Paul Talbot describes this product as a "much higher quality version compared to the cheaper ones that have been manufactured in China." Packed full of features including battery back-up and fountain nozzle kit, this appealing design will cost nothing to power.
To see a descriptive video by aquarium shop owner Paul Talbot, visit https://www.youtube.com/watch?v=nnYAdIemyCI.
Kit includes 2 solar panels, mounting kit, battery housing and control panel, pump and fountain accessories. Visit http://www.majesticaquariums.com.au for more information.