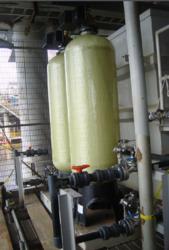 Santa Cruz, CA (PRWEB) April 30, 2013
Chevron is the third largest oil producer in Nigeria and one of its largest investors, spending more than $3 billion annually. The company operates under a joint venture arrangement with the Nigerian National Petroleum Corporation and has assets on land, swamp and near offshore concessions covering approximately 2.2 million acres (8,900 sq km) in the Niger Delta region.
The Opuekeba facility is located in a swamp and water is supplied to the oil platform from ground water sources. The filter system provided by Clean Water Systems uses an advanced granular manganese dioxide media which has very high oxidative properties. This makes it ideal for the rapid treatment of groundwater for the removal of iron, manganese and hydrogen sulfide.
The well water at the Chevron site is first contacted with chlorine as a pre-oxidant in a specially designed contact vessel. This allows the iron and manganese to oxidize and convert to the hydroxide and oxide form while also serving to maintain the filter media in a continuous highly oxidative state. Oxidized manganese adsorbed on the surface of the media further acts to accelerate the conversion of iron to ferric hydroxide, which is also then simultaneously filtered out by the media. By using chlorine as the oxidant and allowing the water to flow through the contact chambers, the media is continually regenerated and does not require additional chemical regeneration or maintenance. This process also has the added benefit of disinfecting the water of bacteria.
"We shipped the twin tank iron filter plant with the control system mounted on the filter tanks, which simplified installation for them. They were able to easily install it themselves and start it up based on our installation guide. This type of manganese oxide well water filter system will last many years with very little maintenance", reports Gerry Bulfin, President of Clean Water Systems & Stores Inc.
Clean Water Systems & Stores Inc. specializes in water treatment of contaminated well water in North America and has over 8000 customers in over 30 countries. The company provides custom easy-to-install water treatment systems and products in a large variety of different types and configurations including systems for removing iron, manganese, sand, odors, bacteria, turbidity and sediment.