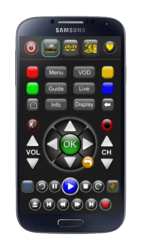 The Touchsquid Pro remote app unleashes the power of the Samsung Galaxy S4, giving it a professional level of control at a modest price.
(PRWEB) April 30, 2013
Touchsquid Technology Inc. is pleased to announce the release date of its Touchsquid PRO remote app for Samsung Galaxy S4 will be May 15, 2013. The Samsung Galaxy S4, which has a built-in IR Blaster is the newest S series Smartphone made by Samsung, the leading manufacturer of Android devices.
The TouchSquid Universal Remote Control App has been available for generic Android devices using external IR blasters for nearly a year, but by making use of the built-in IR on the Samsung products, owners of the Galaxy S4, Tab 7.0 Plus, Tab 7.7, Tab 2 7.0, and the Tab 2 10.1 now have more options to control their home entertainment systems without having to buy additional hardware.
Available in both home and professional versions, the TouchSquid Universal Remote Control App makes use of an extensive (and growing) library of commands for over 200,000 devices. With a simple setup process and an intuitive activity based user interface, it's great for the average user. With customizable buttons, adjustable timings and repeats, and support for several external IR blasters and serial controllers, the TouchSquid App is great for power users too.
The TouchSquid Home version allows an unlimited number of profiles with up to four devices each. The PRO version allows up to ten devices each. The TouchSquid PRO version further differs in that it provides comprehensive user definable macros. A macro is a sequence of commands designed to achieve a particular result. For example: turn down the room lights; lower a projector screen, close the curtain, and switch on the home theater system.
According to Grahame Shannon, president of TouchSquid Technology, "The TouchSquid PRO remote control app unleashes the full power of Samsung's excellent hardware, making a professional level of control available at a modest price."
TouchSquid Technology Inc. is an emerging developer of Remote Control solutions for the home entertainment industry. Located in North Vancouver, BC, Canada, its flagship product is the TouchSquid all-in-one infrared universal remote control tablet. The company has also developed a number of Android Apps, the most notable being the TouchSquid Remote Control App, for use with generic tablets in combination with an external IR blaster device. We welcome dealer and distributor inquiries. For more information, call 1-888-505-9895.
The app is available on Google Play and the Amazon Appstore. The PRO version sells a $49 and the Home version at $19. A free demo version with limited functionality is also available.