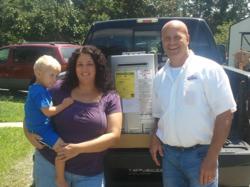 "The Charlotte community has been good to us... it's only right to give back somehow."
Charlotte, NC (PRWEB) April 30, 2013
ER Plumbing Services of Charlotte, NC is doing it again. They're giving away a tankless water heater (brand: Rinnai 9.4, cash value $1500) through their quarterly sweepstakes.
The Charlotte plumber is committed to charity, as is demonstrated through their community service, the way they've been featured on Channel 9 as a commercial business who cares, and how they've given away an iPad, a whole house water filtration system and another water heater in the past.
"The Charlotte community has been good to us," said Dave Parker, owner of ER Plumbing Services. "I've worked in the business for thirty years now, and our loyal customers have returned to us again and again. People refer us to the friends and family. Management companies turn to us for their apartment complexes. Business owners come back to us for future projects. They've made it possible for us to grow as a company, so we've decided it's only right to give back somehow."
The sweepstakes started April 25th and will end on July 25th. The winner of the tankless water heater will be responsible for the cost of installation (labor costs) but not for the heater itself. The offer is only good for those who live within thirty miles of the headquarters of ER Plumbing Services, and anyone who has won one of the sweepstakes in the past is not eligible.
ER Plumbing Services serves the public in several other ways as well. Dave Parker, master plumber and owner of the company, devotes his time to offering advice to home owners and do-it-yourselfers through his question-and-answer forums and blog. He holds his employees to an incredibly high standard of service, which is why the company has grown so much and continues to get such high rankings on service ratings agencies such as Angie's List.
Those who want to learn more about the contest can read up about here. This Charlotte plumber only requires people to enter a first and last name and a valid email address to enter the sweepstakes. (People must confirm the email address by clicking on the link sent to them upon entering - the winner will be notified by email.)