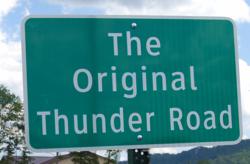 We are looking forward to welcoming the 2013 Tennessee HOG Rally riders.
Maynardville, TN (PRWEB) April 30, 2013
Wanna take the road less traveled? Union County has several great trails that will treat drivers to valleys and ridges, an opportunity to ride portions of Thunder Road, visit vistas and marinas around Norris Lake, and explore communities where time has seemed to stand still and the buffalo roam.
The White Lightening Trail is named for the winding route that moonshine runners raced to transport corn-whiskey during prohibition. This trail will treat riders to a day of visiting the hometowns of Kenny Chesney, Roy Acuff, Chet Atkins, and Carl Smith.
The Civil War Trails map gives the rider an idea of the geographic challenges of moving troops and equipment in rugged East Tennessee. From ridges to valleys to stream crossings, both the Union and the Confederacy traversed this area in Union County as a corridor in the campaign for Fort Sanders and for the Cumberland Gap.
The East Tennessee River Valley map guide provides an authentic Appalachian experience. Whether it is recreation, history, or events, this map will guide visitors to the best locations in the community to a great day trip or multiple day adventure.
Maps are available at the Union County Chamber of Commerce located at 1001 Main St, Maynardville, TN 37807 or at any Tennessee Welcome Center. Visitors can also request for a map to be mailed in advance by contacting the Chamber at unioncochamber(at)bellsouth(dot)net.