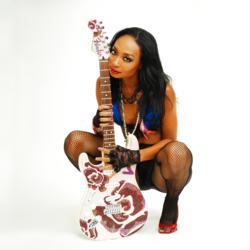 Being the new generation in the new musical landscape, I couldn't think of a better family to be a part of.
Los Angeles, CA (PRWEB) April 30, 2013
Guitar goddess Malina Moye and her record label WCE Records have signed into a global distribution and marketing partnership with Brody Distribution Group, distributed by Red (A Division Of Sony Corporation). Having been a leader in the independent music scene over the last few years, Moye has carved out her own lane as a multifaceted international artist in today's market, and has become a well-versed record label executive in her own right. Her unique brand not only encompasses musical artistry as an iconic singer/lead guitarist, but as a red carpet favorite, Moye has established herself as a talked-about fashionista by Glamour Magazine and The Style Network. As a pioneer, Moye made history as the first black woman to play the national anthem on guitar at a professional sporting event (Vikings vs Cowboys), and she recently performed at the Rock & Roll Hall of Fame Tribute to Chuck Berry.
"As a 360 artist who owns a record label, I have found a great partner in Jeff Brody at BDG and his marketing team at Stache Media and Red," states Moye. "Being the new generation in the new musical landscape, I couldn't think of a better family to be a part of."
During the three-year pact, Moye will release her sophomore record "Rock & Roll Baby" in the coming months with a soon-to-be-revealed list of music legends being featured on several tracks. Self-described as 'funk rock with mainstream radio appeal,' Moye tips the hat to pioneers such as Sly and the Family Stone and Led Zeppelin to name a few.
"Being a part of the Malina Moye train is exciting to say the least. She's a breath of fresh air and there is no one like her," states CEO Jeff Brody. "BDG and Red are prepared to meet her unique and commercial appeal with 110% global support."
WCE (Walking Commodities Ent.) will also sign independent artists in the near future who will be distributed as part of the BDG/Red arrangement. Ms. Moye's first single will be released this summer followed by an international tour that leads into a busy Fall performance schedule. For more information, visit Malina's website.