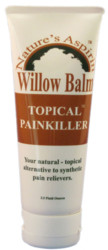 Nature alone can cure disease. Doctors cannot heal. They can only direct the sufferer back to the pathways of health. Nature alone can create, and healing is re-creation. - William S. Sadler
Murfreesboro, TN (PRWEB) April 30, 2013
'Willow Balm' is one of the most effective topical analgesics on the market. Willow Balm is currently available in approximately 400 retail locations including Amazon.com, select Walgreens in the Southeast, Tennessee Farmer's Co-Ops, Stockdales, Big R, and many other retailers. With the addition of D&B Supply, I Woke Up Well Distributing, Inc. has increased their market reach into the northwest and ensured that customers located in Idaho and Oregon are able to purchase the product at a brick and mortar store.
The Tennessee-based manufacturer and wholesale distributor of natural pain relief products has announced an exciting new retail expansion in which 'I Woke Up Well Distributing Inc.' is joining forces with D&B Supply to substantially increase their product exposure and ensure that their popular 'Willow Balm' product is easily accessible to their customers in rural America.
Rural Americans experience aches, pains and minor injuries as part of their daily life. Unlike their urban counterparts who easily have access to the corner clinic, they often prefer using natural remedies to treat common ailments. The hardworking consumer relies heavily on their local farm and ranch supply store, and they appreciate having natural, affordable health care products such as Willow Balm Topical Painkiller readily available.
Willow Balm is manufactured near Nashville, Tennessee. A U.S. Patent Pending product, the balm provides superior pain relief with a natural combination of white willow bark, helichrysum, and other essential oils known for their anti-inflammatory properties. Aptly known as 'Natures Aspirin,' using Willow Balm is a natural approach to soothe a plethora of ailments such as pain related to sore muscles, joint, back and neck pain, and arthritis-related discomfort. Unlike many modern day 'over the counter' pain relief products, Willow Balm contains no synthetic ingredients or preservatives, meaning the pain relieving properties come solely from the power of nature.
I Woke Up Well Distributing Inc. is a Tennessee-based distributor of the natural pain relief product Willow Balm. For further information, please visit the official website at http://www.willowbalm.com.