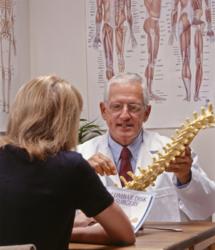 Spinal Decompression Center That Cares About You !
Irvine, CA (PRWEB) April 28, 2013
The SCSC spine care center made an important move to the new Barranca Medical Plaza in Irvine. Spinal decompression specialist, Dr. Wu, led the move, which increased the available office space, introduced key rehabilitation equipment, as well as increased staff and new patients at the center.
In Orange County, hundreds of patients with back pain look to Dr. Wu and the spine care center to fulfill their sports injury, chiropractic and other related needs. Now, Dr. Wu has the ability to address more comprehensive patient issues by moving the facility. "We moved into a much larger center, which is thousands of square feet. Not only is there a new bigger patient waiting area, we now have more treatment rooms, and leading-edge equipment that's vital to our rehabilitation work here," explains Dr. Wu. Amongst the newest equipment that Dr. Wu utilizes at the center includes the VAXD, DRX900 and DRX900e for the specific treatment of spinal decompression and related back pain.
SCSC has hired additional medical staff to accommodate the increase in patients who have chosen the center for their recovery needs. "I have brought in additional excellent staff here at the center. I am proud to have them on the team," says Dr. Wu.
Still a part of the Barranca Medical Plaza, the new SCSC spine center, located close by, enables patients to travel virtually the same distance and location as before. "That added convenience is important for some of our more disabled patients."
The South County Spine Center is led by Dr. Anthony Wu, who has been a practicing Doctor of Chiropractic and sports injury doctor in Irvine for 20 years. Dr. Wu's primary goal is to promote manual spinal decompression therapy by using holistic techniques to initiate the patient healing process. The SCSC specializes in advanced, long-lasting, non-surgical chiropractic and medical techniques that alleviate and eliminate chronic and traumatic back injuries. Based in Orange County, the SCSC services patients throughout greater Southern California.
Dr. Wu and the SCSC medical team are available for both mainstream national and regional online, print, radio and television interviews. Images and information about SCSC are available on: http://www.southcountyspinecare.com.
Contact:
South County Spine Center
Barranca Medical Plaza
18102 Sky Park Circle, Suite D
Irvine, CA 92614
Toll Free: 866-477-4050
Tel: 949-988-0445
Fax: 949-333-2225
Email: info(at)southcountyspinecare(dot)com
Web: http://www.southcountyspinecare.com