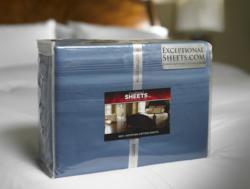 Evansville, OM (PRWEB) April 29, 2013
Bed Sheets Cheat Sheet
Buying sheets is not just about looking for a cute sheet set that fits your mattress. Many choices such as fabrics, countless designs, thread counts, and material ply can complicate your decision. Finding a great way to sleep should not be so stressful. Calm down and exhale, the folks over at ExceptionalSheets.com have put together this handy guide to shopping for sheets.
Thread Count Definition
This measure has become a guide for buyers to find their ideal sheets and towels. The Thread count of any kind of textile is defined as the sum of the horizontal and vertical threads in each square inch of the material. ExceptionalSheets.com owner Paul Saunders explains, "The higher the thread count, the more durable the product. This is not to say that higher thread count sheets are softer. Denim, for example, is an ultra-high thread count linen. Very durable? Yes. Softest? No. That said, is there anything better than a well worn pair of jeans?" Thread count really comes down to personal preference. Higher thread counts are a bit heavier and crisp. In contrast, thread counts of 400-650 are lighter and similar to what one could expect at popular four star hotels.
What is 'Ply' and why is it so confusing?
Plying is the process of taking two or more fine strands of yarn and twisting them together. Egyptian Cotton single ply cotton, like that available at ExceptionalSheets.com, is more durable because it is not a combination of several smaller strands of yarns twisted together. For example, imagine a durable rope made of a single strand of fabric relative to a rope made of hundreds of twisted smaller pieces fabric. Multi-ply fabrics can also lead to significantly exaggerated thread counts. "Some manufacturers often count each of these plies in multiples, stating that because they were originally multiple strands of yarn, they should be counted as such. As a result, the thread count in these sheets is inflated, but the durability is not reflective of that number."
What's A Good Thread Count For Comfortable Sheets?
The "standard" cotton thread counts are around 150 TC (thread count), with good-quality sheets starting at 400-plus, and representing a very satisfying sleep source for most consumers. "A lot of our European customers prefer thicker, more crisp sheets that the 1000+ thread counts offer." Says Saunders, "But we find that the majority of our North American customers are extremely happy with our 650 count." Again, thread count is merely an option of personal preference.
The Best Bed Sheet Materials for You
Ply and thread count are not the only qualities that make a good or bad sheet. Materials are extremely important to a bed sheet's quality. Long-fiber cotton, such as Egyptian cotton, is stronger and less likely to pill. (Pilling refers to balls of fiber that build up on a piece of cloth from wear and tear. They commonly occur in weaker materials, but they do occur to some effect in all fibers.) Common sheet materials in lower-quality products are cotton/polyester blends, linen, and microfiber. "Different materials serve different purposes," explains Saunders. "Egyptian cotton, due to the climate that its grown in, is able to be produced in extremely long threads; thus making the finished product softer and more durable."
You Get What You Pay For
Luxury bed and bath linens are like many things in life. It pays to do your homework, deal with those you can trust, and you get what you pay for. Authentic Egyptian cotton sheets from Exceptionalsheets.com offer an excellent opportunity to experience an extravagant experience previously exclusive to a much more limited customer.