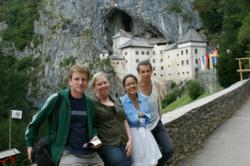 Boulder, Colorado (PRWEB) April 30, 2013
Adventures in Preservation (AiP) is beginning the search for a few good board members. AiP is a non-profit organization that develops and runs enriching, experiential travel programs that safeguard cultural heritage and foster sustainable development. The group has embarked on an ambitious plan to grow the organization and enhance its effectiveness. Expanding the Board of Directors is a significant component of that plan.
AiP's success depends on developing strong funding sources and new support systems to enhance an ever-broadening stable of projects around the world. The organization is therefore seeking individuals with the vision to implement the plan and the dedication to see it to fruition.
The goal for the expanded Board is to maximize the positive results of each building conservation project. Desired results go beyond the goal of saving valuable architectural heritage. Board members will be tasked with supporting projects that create an educational opportunity for community members; create new jobs in tourism and historic preservation; and/or increase the community's sustainable income.
Equally significant, the Board's role will also be to optimize both the travel and hands-on training experience for each member of a project team.
For more information on joining the AiP Board of Directors, contact Judith Broeker at jbroeker(at)adventuresinpreservation(dot)org.
Adventures in Preservation is a non-profit organization connecting people and preservation through enriching experiential programs that safeguard cultural heritage. One- and two-week hands-on volunteer vacations give participants the opportunity to travel, experience their destination, and learn hands-on skills while saving a valuable historic resource. AiP envisions a world where people use, understand, and appreciate historic buildings that are vital to economic and environmental sustainability. Learn more about how AiP citizen preservationists combine their power with the strength of local communities to make a difference at http://www.adventuresinpreservation.org.