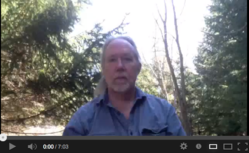 The program focuses on raising vibration and awareness through energetic levels of being – physical, emotional, mental, spiritual, and awareness.
Munnsville, New York (PRWEB) April 29, 2013
This Tuesday, April 30, 7 p.m. Eastern Time, Reconnective Healing Practitioner Tim Emerson of Kwan Yin Healing will walk listeners through an overview of his 8 week program, The Reconnective Journey, followed by a group healing. Registration for the teleseminar or the replay is available at http://mad.ly/signups/79283/join . Information about the full program is available at http://thereconnectivejourney.com/ .
The program focuses on raising vibration and awareness through energetic levels of being – physical, emotional, mental, spiritual, and awareness – recognizing the challenges and applying the lessons gained through a comprehensive sweep through these states of being.
A Taste of a Journey
One of the psychological realities Joseph Campbell reveals in his Hero's Journey is that our conflicts stem from facing The Other, which we "conquer" by assimilation, gaining wisdom of self. We're stuck because we're looking outside ourselves when the obstacles are inner. And it's MUCH easier to identify these than people generally make it.
**The Physical:**
Many, many things are wrong in the world, the community, in our relationships, in our circumstances--but while we may notice them, most of these aren't things that are on our minds as troublesome day to day. So why these things? We are bothered most by the things that reflect parts of ourselves we don't like and don't like to admit. This process, then, starts with self-honesty.
**The Emotional.**
Feelings are reflections of our thoughts. They're feedback. My burning hand on the stove sends a message of pain telling me to move my hand, and the feeling of relief under the cold water sends a message affirming this better choice. Likewise, our emotions reflect the quality of our thoughts. Focusing on feeling overwhelmed clings to a thought of hopelessness, fatigue, low energy, sleeplessness, and more. Negative emotions are signals to change to better thoughts. Look for something good. Find something to be grateful for, even if small. What would be happier thoughts? Do it--and notice things start to go better.
**The Mental.**
Our thoughts create our world--but we are not our thoughts. Anyone who has tried meditation and said, "I just can't stop my thoughts!" has actually realized this unknowingly: there's a gap between us and our thoughts; we are the ones recognizing the thoughts, not the thoughts themselves. This is the role of ego--to defend itself by creating thoughts and embracing these thoughts as reality. And the realms of spirit and awareness are all outside of the capabilities of mind, similar to how body awareness isn't going to get any calculus homework done.
Take a step back from this swirling cloud of thoughts, and just watch it. Don't change or judge these thoughts--just peacefully step back and watch them spin. Step back more often, and it will get tired of spinning.
**The Spiritual.**
The first problem people have approaching the spiritual is ego--immediately, they go into their pet rants about the wrongs of religion and the damages done by believers and the twisted paths they were taught to follow. That's NOT what we're talking about.
Forget all the rejected doctrine, and find the personal baseline truths. Is there an energy to nature? Is there a natural drive to grow? Is there a reality that all evaporates in entropy? Doesn't matter. But get honest, and instead of rejecting, find what the bottom line personal truth. That's step one. Spend time on this. Get it right.
Step two is to construct a daily practice--could be 10 minutes, fine--focusing on this baseline belief. For some, this might mean mediation and prayer, for others, a daily reading, and for others, a cup of tea on the porch under a favorite tree. Whatever it is, do this DAILY. No skipping--ever. So prepare something meaningful and doable, no matter what. Here's why.
Each day is going to go in multiple directions. But with this practice, each day starts or ends with that daily ritual, the baseline principles as self-defined and embraced. It's a touchstone. The day might go awry, but the next day, it's focused back on the touchstone. So instead of things building and building, things keep returning to baseline.
**Awareness.**
Each stage is building on the prior stage. This spiritual practice, as self-defined, daily, without fail, will bit by bit bring about change. Instead of continually diffusing energy/thoughts/feelings/perceptions, they're focusing them around baseline truth, rather than continual distortions upon distortions upon distortions, bringing a new peace, new insights, a new way of living.
At this program also covers new perspectives on healing and incorporating the lessons learned into a return to routine daily life.
This complementary teleseminar is the last of a series of public events Kwan Yin Healing has offered this year from January through April. The paid program, The Reconnective Journey, starts in May and runs through June.