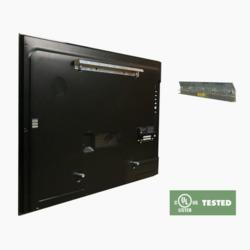 ...This is the most exciting potential new relationship we have coming out of the show... Hangman is right in our wheelhouse and will be received well by our customers." — Tom Supan, Innovative Sales Group
Los Angeles, CA (PRWEB) April 30, 2013
Hangman Products not only netted a top award at the CES 2013 for the Simple Mount TV Hanger but attracted the might of two powerhouse rep agencies for North America, Innovative Sales Group in the United States and Essential Sales in Canada, for their hanging solutions for TVs, art, mirrors and more.
Greg Knap and his team at Essential Sales discovered the Hangman line during their research preceding the CES show, then were wowed in person. Knap, based in Ontario, and partner Don Sutherland, out of Vancouver, spearhead Essential Sales. "We found Hangman Products and thought they offered unique solutions. We hadn't seen them here in Canada." Essential Sales sells to Canadian distributors and resellers, and boasts big-named clients Koss Headphones and Philips Electronics, but also values niche markets. "We thought this would be an opportunity to provide unique solutions to our existing customer base," said Knap, "but Hangman is also taking us into a different aspect of niche distributors and resellers, which is great."
The award-winning Simple Mount TV Hanger and the Hangman line also intrigued US-based Innovative Sales Group, which reps giants like Amazon, Wal-Mart, and RadioShack. Tom Supan, Principal at the Dallas home of Innovative Sales Group, says of Hangman, "This is the most exciting potential new relationship we have coming out of the show…Hangman is right in our wheelhouse and will be received well by our customers." Supan showed his Dallas team one of the easy installation videos embedded on each product page of Hangman's website, and received enthusiastic reviews from his entire staff, especially those who are not adept handymen.
Another product "catching the eye of major retailers," according to Greg Knap, is Hangman Products Anti-Tip Kit. Health Canada recently issued a warning about the dangers of "tipping' furniture and TVs. Stateside last month, Heath E. Combs in Furniture Today cited changes to the safety standards for furniture tip-overs with regard to dressers, specifically addressing "operational sliding length," how a far a drawer can be pulled out without tipping. The U.S. Consumer Product Safety Commission website states one child dies every two weeks due to furniture tip-overs. These personal tragedies have also resulted in costly legal settlements, including a February settlement against FurnitureKidz, whose 2006 product was not equipped with an anchoring strap. The CPSC advises that all televisions and furniture in homes be anchored.
Priced under $10, The Hangman Furniture Anti-Tip Kit consists of an aircraft grade steel cable that connects on one end to your furniture with a bracket installed into a stud on the wall and is tested up to 400 pounds.
Hangman is becoming a household name in innovation and safety. In addition to a growing chain of retail outlets, all of Hangman's products are available directly at hangmanproducts.com.
About Hangman Products: Hangman Products creates hardware solutions for everyday needs. The multiple-patented Hangman Systems are carefully engineered to guarantee a safe and sturdy installation while promising to hang it level every time. Hangman's unique line of products ranges from Hanging, Framing, TV/Stereo Mounts and Safety to Garage/Slat Wall and Organization. They are designed to meet the installation requirements for retailers, consumers and manufacturers. Hangman's ever-expanding line of products can handle even the most difficult projects.