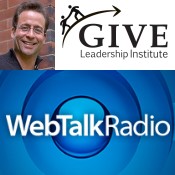 The goal (of the radio show) is simple…to provide current and future leaders with foundational tools that will help them improve the quality of their leadership and lead positive change with confidence.
Ithaca, New York (PRWEB) April 30, 2013
GIVE Leadership Institute co-founder Al Gonzalez is now sharing his decades of experience with Fortune 500 companies and top universities in a radio show titled "Leading Beyond the Status Quo" that provides listeners with proven strategies and insight to consistently achieve superior performance from others by leveraging strengths, developing trust and avoiding conflict.
Gonzalez and a diverse array of guests discuss universal concepts of serving, humility and transparency intended to be of use to any one, whether they the head of a household, starting a new business or leading an established team. He will also address specific issues that impact leaders and their teams such as negativity bias, sustainable leadership, employee engagement, workplace bullying and the "Triple Bottom Line" of People, Profit and Planet.
Leading Beyond the Status Quo can be heard each week on WebTalkRadio.net, one of the Internet's fastest growing talk radio portals. As a Podcast, the show can be heard 24 hours a day, 7 days a week on the radio station website, alongside a variety of other shows, and will also be available on iTunes.
Gonzalez says that the show is a natural extension of his role as a leadership practitioner and consultant. "As an employee and a manager I have experienced the negative consequences of poor leadership way too often. My goal is simple… I want to provide current and future leaders with foundational tools that will help them improve the quality of their leadership and lead positive change with confidence."
The 30-minute weekly show was launched on April 22, 2013 with an episode titled "With Trust, the Dollars Flow…Without Trust, the Pennies Trickle." The first show explores the crisis of employee engagement and a "foundational leadership tool" that helps develop the level of trust within teams called the "Trust Maturity Model," a framework that can "help any supervisor identify the trust level of the team and how to improve it."
Gonzalez explained that "today's workplace is plagued by bullying, disengaged employees, and managers who lack the tools and experience to influence others or maximize their team's efforts. What every staff member wants more than anything is to enjoy a trusting relationship with their supervisors and their colleagues, in order be engaged and motivated at work."
The catalyst for the show was the involvement of Brad Saul, President of Matrix Media, the company that owns and operates WebTalkRadio.net. Matrix is a radio syndication firm from Chicago that has been in operation for over 30 years and currently has 60 programs airing across about 1,000 radio stations reaching 3.5 million people every week through its network.
Saul, who has developed radio brands such as The NBA Radio Network, Travel Channel Radio, and Animal Planet Radio, said "We have been looking for someone to host a talk radio program on leadership for quite some time. We noticed that there was an opening that was not being filled by any existing program on the Internet, or terrestrial radio. I looked at somewhere between 40 – 60 different websites, and interviewed more than 10 people, before deciding to go with Al."
Saul's first exposure to Gonzalez and the caliber of the tools and insight offered through GIVE Leadership Institute was an article on Linked2Leadership.com, where Gonzalez was named one of the 2011-2012 Top 10 Contributing Authors, dealing with negativity bias and the role of conflict management in sustainable leadership that was the 5th most read post on that award-winning leadership blog this past year.
"I was impressed by how Al's expertise and perspective combine to bring a unique voice in the world of leadership. He has an understanding of what leadership means and knows the qualities required to be an effective leader. In addition, he speaks about these topics in an entertaining and engaging way and in a fashion that is relevant to the turbulent times in which we live."
Gonzalez co-founded GIVE Leadership Institute in 2010 with a mission to help present and future generations of leadership better understand the need for change in the recognition of people as precious resources and equip them to develop truly sustainable teams. GLI's programs have been applied, tested and refined in an array of diverse teams composed of IT engineers, developers, designers and project managers during Gonzalez's 16 years of experience leading IT and web development teams for Motorola and CBS Sports and Cornell University.
In the words of Brad Saul, "Leadership is the most fascinating of qualities. The question that has always been unanswered is whether leaders are made or born. In the workplace or life itself, it is a quality not only to be admired and understood, but something to strive for. Leaders, in fact, can be made. It takes the desire, effort, and makeup of an individual to be able to do it."