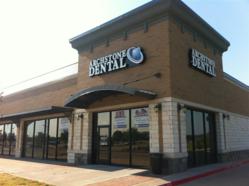 Fort Worth, TX (PRWEB) April 29, 2013
Archstone Dental launches its "Pay It Forward" campaign this May to give away $500 worth of dental treatments to one winner. The dental office is asking people to nominate individuals who are passionate about helping others, or to nominate someone in need of a helping hand.
Nominations need to be sent to info(at)archstonedental(dot)com this month with a story explaining why that person is special, and a picture relevant to the story must be included. Additionally, individuals interested in nominating themselves are able to do so.
At the beginning of May, nominations that meet all standards will be posted to Archstone Dental's Facebook page. The person whose story receives the most "Likes" by the end of the month will receive $500 worth of dental treatments at Archstone Dental. Contestants can also "Share" the story on their own personal Facebook pages to help raise the number of Likes. On June 1, Archstone Dental will announce the winner. Visit http://www.archstonedental.com/free-dental-day for more detailed information.
Archstone Dental provides preventative care and cleanings, periodontal maintenance, pediatric dentistry, cosmetic dentistry, and orthodontics. The practice also fits Invisalign clear aligners, as well as implants, crowns, and dentures.
Archstone Dental has five offices located in Fort Worth, Granbury, and Weatherford. The family-friendly practice aims to make oral healthcare accessible to everyone. The offices are specially designed to be a fun place for children to visit, and are equipped with TVs, video games, and toys.
To date this year, Archstone Dental has donated more than $29,000 worth of dental services to the community.
About Archstone Dental
Archstone Dental, the office of Dr. Gabriel Shahwan, strives to provide the highest quality of dental care in a family-centered practice, while also incorporating the newest technologies available. The dentists and associates work diligently to make sure that each and every visit to the dentist is a pleasant one. Combining the right mix of personal care, high technology, and continuing education, Archstone Dental maintains a commitment to their patients in every facet of their practice. The practice offers dental and orthodontic services for people of all ages.
Archstone Dental is open Monday through Friday from 9 a.m. to 6 p.m., and every other Saturday from 9 a.m. to 3 p.m. The office accepts Visa, MasterCard, Discover, PPO insurances, Medicaid, CHIP, cash, and checks. Archstone Dental has several locations serving the communities of Fort Worth, Granbury, and Weatherford. To learn more information, call 817-737-7711 or visit http://www.ArchstoneDental.com.