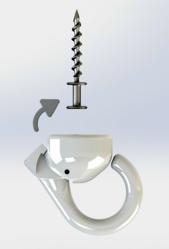 Las Vegas, NV (PRWEB) April 30, 2013
The Apartment Hanger line is Hangman Products' comprehensive hanging system which features foam liners that will not scuff walls. Designed for a more mobile clientele, users can hang TVs, art, and mirrors and hang them easily, efficiently, and without fear of damage. When combined with the Hangman Erase-a-Hole, apartment dwellers can literally erase any hanging presence on white to cream-colored walls. The line includes a TV mount, mirror hangers holding up to 150 pounds, safety hanger for wired products and the Erase-A-Hole touch up kit.
Hangman Products is also introducing a giant in their animal kingdom of products, the Elephant Hook, a revolution in ceiling hanging. Joining the might of Hangman Walldog Screws, Bear Claw Hangers, and Monkey Hooks, the Elephant Hook is the simplest ceiling hook ever made, the fastest to install, and it swivels and locks. The Elephant Hook will install into a stud or anchor. It uses the Hangman double-headed Bear Claw wood screw, or the new double-headed machine screw for anchors. The Elephant Hook can be used indoors or outdoors, into drywall, plaster, or rafters.
The Elephant Hook requires only two steps for installation. Install the screw or bolt, click and lock the Elephant Hook, done. The Elephant Hook will swivel, but locks under tension. It is easy to remove, and holds up to 50 pounds.
Find Hangman Products at the National Hardware Show, Booth 7337, at the Las Vegas Convention Center, May 7-9th. Contact Hangman Products at http://www.hangmanproducts.com, info(at)hangmanproducts(dot)com , and 818-610-0487.
About Hangman Products: Hangman Products creates hardware solutions for everyday needs. The multiple-patented Hangman Systems are carefully engineered to guarantee a safe and sturdy installation while promising to hang it level every time. Hangman's unique line of products ranges from Hanging, Framing, TV/Stereo Mounts and Safety to Garage/Slat Wall and Organization. They are designed to meet the installation requirements for retailers, consumers and manufacturers. Hangman's ever-expanding line of products can handle even the most difficult projects.