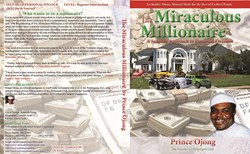 Making big money in America is an art, a science, and a philosophy.
Silver Spring, MD (PRWEB) April 29, 2013
The decision to pre-release the book is predicated on marketing data showing strong early demand for the book. In less than two weeks, over 20,000 prospects have sought information from the publisher's web site: http://www.themiraculousmillionaire.net.
Employees of Web.com assisted Prince Ojong's dream team to cull the names, addresses, and emails of 1,000 serious buyers from the site's back office. Statistically, an examination of the book's marketing plan presages the release of a new bestseller on Amazon.com. On May 01, 2013, the official release date of The Miraculous Millionaire, a new book on personal finance written by Prince Ojong, the whole wide world will be poised to witness the release of a bestseller campaign of a new money manual.
Never before Michael Jackson's Thriller music album has a book from a new author become such a major media sensation. As for the response of popular book reviewers, it is very encouraging; indeed, they are already making much ado about nothing. Their positive response to the book is wholly justified. The Miraculous Millionaire is a real game changer in the personal finance field. It proposes a paradigm shift from the pay-yourself-first cliché to the pay-God-first mantra. In fact, this religious stance explains the popularity of the book in the Christian community.
Why are many readers clamoring to buy The Miraculous Millionaire on Amazon.com? First and foremost, the book presents unique and sensible financial information that cannot be found elsewhere, but the information is, sorely, in demand. Second, the book solves the common money problem of most people in America by using success modeling, neuro-linguistic programming, and Aristotlean principles of imitation. Third, the book tells the entertaining and compelling story of an immigrant's efforts to achieve the American Dream. Fourth, Prince Ojong, the author, is a local tax consultant, credible money expert, and rising celebrity. Fifth, the book is already selling appreciably well and people are telling their friends and family members about it.