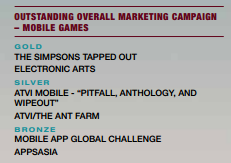 Being mentioned in the same breath as Electronic Arts and ATVI/The Ant Farm is extraordinary.
Seoul, South Korea (PRWEB) April 30, 2013
South Korean mobile application marketing company appsasia is celebrating their recent triumph. As the 2013 Game Marketing Summit Awards came to a close, the small but influential company gained more momentum by bringing home the bronze place in the Outstanding Overall Marketing Campaign: Mobile Games category.
The 8th annual Game Marketing Awards represents a yearly celebration of the best marketing practices and most successful marketing campaigns in the video game industry. A panel of renowned interactive entertainment experts determines the winners of each category, and being a finalist in this prestigious competition is an honor in and of itself.
Reaching the winners circle, of course, is an even greater honor. appsasia beat fierce competition to claim their hard-won third place slot—just behind gaming behemoths Activision and Electronic Arts. EA's entry, "The Simpsons Tapped Out" is a Simpsons branded social networking game, which grossed $23 million in sales last quarter. Blizzard/Activision's Skylander's took second place, paying homage to their millions in sales profit for their mobile version of the game.
While appsasia markets less established games, their winning entry was itself extremely impressive. They participated in the Mobile App Global Challenge, a project designed by the Korean Mobile Internet Business Association (MOIBA). To meet MOIBA's challenge, appsasia was faced with successfully marketing 25 different apps from independent developers around the world, introducing them into the global market, using a very restrictive budget of $5,300 per app. Working with unknown apps and relatively unknown developers, appsasia achieved $612,000 in sales and averaged a user acquisition cost of only $0.09. Their achievement is testament to the value of creativity, efficiency, and determination in marketing.
"We are thrilled with the Game Marketing Summit Awards outcome. Being mentioned in the same breath as Electronic Arts and ATVI/The Ant Farm is extraordinary," said appsasia CEO Peter Song.
Accolades for the up and coming marketing company don't stop there—appsasia also received the honor of being nominated in the Best PR Campaign category in the Game Connection Marketing Awards.