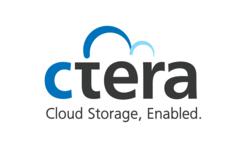 Petach Tikva, Israel and Palo Alto, Calif., (PRWEB) April 29, 2013
WHAT:
CTERA Networks, the leader in cloud storage enablement, will be sponsoring and
exhibiting at the 2013 EMC World.
Expo attendees can stop by the booth to learn more about CTERA's Cloud Storage Enablement suite, which allows service providers and enterprises to create and manage cloud storage services based on their own infrastructure, including tight integration with EMC Atmos.
WHEN:
Monday, May 6 – Thursday, May 9, 2013
WHERE:
EMC World will be held at the Venetian in Las Vegas, NV.
CTERA Networks will be exhibiting at Booth #758.
WHY:
Cloud service providers as well as large enterprises are looking for ways to leverage their private cloud infrastructure to offer reliable, secure, high-performance cloud storage applications. Typical use-cases include file sync & share, mobile collaboration, hybrid local/cloud backup and cloud on-ramping.
However, cloud storage infrastructure on its own cannot deliver such turnkey solutions, requires development and integration work, and faces challenges in securing data and providing high-performance user experience outside the datacenter, in particular to roaming/mobile users and remote locations such as branch offices.
CTERA addresses these challenges with a unified service delivery platform that supports a variety of use-cases, a hybrid on-premises/cloud deployment model, multi-tier management, Active Directory integration, and robust, automated security features. CTERA staff will be available to discuss the advantages of using a unified platform to deliver such applications and will demonstrate CTERA's integration with EMC Atmos.
About CTERA Networks
CTERA Networks is the leader in cloud storage enablement, revolutionizing storage, data protection and collaboration for enterprises and SMBs. Its Cloud Attached Storage® architecture combines secure cloud storage services with on-premises appliances and managed agents. CTERA pioneered the cloud storage gateway concept, with tens of thousands of units deployed, and its scalable cloud service delivery platform is used by leading service providers and enterprises, on the public or private cloud infrastructure of their choice. For more information, visit http://www.ctera.com. Follow CTERA on Twitter: http://www.twitter.com/CTERA
Media Contact
CTERA Networks
Nathan Beers
Schwartz MSL
415-512-0770, ctera(at)schwartzcomm(dot)com