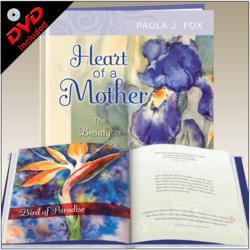 The different qualities and characteristic symbolized by each type of flower reminds us of the beauty of a mother's love
Los Angeles, California (PRWEB) April 29, 2013
California Flower Mall celebrates Mother's Day with priceless flower gifts under $20.Flower petallers at the San Pedro Street LA flower mart help to celebrate Moms with millions of dazzling fresh wholesale and discount flowers and "The Heart of a Mother…The Beauty of a Mother's Love" book, DVD, gift card and print. Bargain hunters take note -- all of these top quality Mother's Day gifts including the fresh flower gifts are under $20.
In her newest book "The Heart of A Mother…The Beauty of a Mother's Love", author Paula J. Fox celebrates all that makes a mother special. She said the book grew from a speech she gave to women's groups. "What makes it unique is that I compare a mother's love to 30 different flowers. After I talk about each flower, I reach down and place that flower in a vase. At the end there is a beautiful bouquet of flowers…each symbolic of the love a mother has for her child. People love it!"
Flowers have always reigned as the top Mother's Day gift. Mothers and their children enjoy the pairing of the beauty of a mother's love with quotes inspired by the unique bond between mothers and children beautifully illuminated in the book. A mother's love is portrayed in a beautiful floral design that's a feast for the eye as well as the soul. Each flower represents a different characteristic of mothers.
Fox writes, "As we walk through the enchanting garden of motherhood, we see the heart of each mother grow and blossom in beauty and grace, as she spreads her fragrance of love not only in her home but throughout the world. The different qualities and characteristic each of these flowers remind us of the beauty of a mother's love:

Gladiola - illustrates the strength it takes to be a mother. It is a strong powerful flower that is a favorite in large arrangements because of its size. Gladiola comes from a Greek word meaning "sword" reminding us that a mother is a powerful force for her children. She is their advocate, always on their side and willing to fight for them.
Lilac – represents the fragrance of a mother's sacrifice…the lovely scent of forgiveness that results when a flower is crushed and gives back to the very one that crushed it. It reminds us of the beauty that surrounds a mother who is always willing to forgive her children's faults and offer them compassion, mercy and love.
Hydrangea - has a wonderful quality of being able to change color from shades of pink to blue. Initially it was thought that this flower was like a chameleon, changing color to match its surroundings, but experiments proved that the color is actually determined by the roots of the plant and the kind of soil it is planted in. This illustrates the mother who gives her children a rich foundation of love and deep roots of character and strength.
"There isn't a mother in the world who doesn't love flowers. But when you combine the beauty of this book with the free card and DVD it will grab your heart and not your wallet. Our partner Simple Truths is offering the Heart of a Mother book, DVD and gift card for only $10 today until Thursday night May 2. Order it now to arrive by Mother's Day. Just add a fresh flowers from California Flower Mall and touch the heart of every mom in your life with a Mother's Day gift under $20 that's priceless, said Mark Chatoff owner and president of California Flower Mall."
About California Flower Mall:
California Flower Mall located at 825 San Pedro Street is largest DIY San Pedro Street wholesale flower market. It is the only downtown LA flower mart in the eight-block Los Angeles flower district community that is open around the clock until 7 pm Mother's Day Sunday May 12th. The LA flower district is the largest community of wholesale flower markets and flower businesses in the U.S.