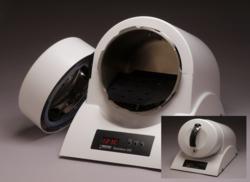 The sterilization cycle is 121C for 30 minutes - the hospital standard - is long enough to kill the AIDS virus
Minneapolis, MN (PRWEB) April 30, 2013
Sub-Saharan Africa is home to 69% of the world's HIV positive population. This number continues to climb. Studies show that contrary to popular belief, this pandemic is not caused by lifestyle choices alone. Part of this problem can be traced to medical practices, dentistry and body art. Small African facilities often lack an autoclave - a device used to sterilize medical devices to prevent the transmission of diseases, like the AIDS virus. The Saniclave 200, a small, affordable medical autoclave (CE marked and FDA approved) was recently introduced to help combat this problem.
According to AVERT.org, the AIDS pandemic continues to grow in Africa., "In 2010, there were an estimated 22.9 million people living with HIV in Sub-Saharan Africa. This has increased since 2009, when an estimated 22.5 million people were living with HIV, including 2.3 million children."
"I think it is arrogant and ethnocentric to assume that the African AIDS epidemic is solely a result of lifestyle choices" states Isaac Erickson of Revolutionary Science. "AIDS transmissions are often due to insufficient sterilization methods used in medical, dental and tattoo facilities in Africa."
These facilities in Sub-Saharan Africa often lack proper sterilization and sanitary practices. Autoclaves are a rarity. Tattoo shops, nail salons and dental practices are often unregulated and suffer poor conditions, resulting in the transmission of diseases, like AIDS. The Harm Reduction Journal recently stated that "sterilization equipment for other critical items that must be safely reused (e.g., surgical forceps, specula, dental instruments) and appropriate training are lacking in many formal health facilities"
Poverty and an uneducated populous are two reasons why medical sanitation and sterilization are lacking, states the journal. "Public awareness of HIV transmission risk from other prevalent skin-piercing procedures (such as tattooing, ... or unsterile dental care) is also poor." A simple, affordable autoclave would nearly eliminate the transmission of the disease in these situations. Even small autoclaves cost several thousand dollars - too expensive for a modest dental clinic or tattoo facility in Africa.
"There were several socially conscious individuals on the research and development staff of Revolutionary Science that took this into consideration when designing the FDA approved Saniclave 200." said Eric Kaari of Revolutionary Science. "The Saniclave needed to comply with all modern regulations and still be compact and very affordable."
The Saniclave 200 is a 10 liter autoclave, fashioned with a digital display. The sterilization cycle is 121C for 30 minutes - the hospital standard - is long enough to kill the AIDS virus. A dry mode allows for drying both wrapped or unwrapped instruments. It is available with or without a printer and in 120 or 240 volts. Now the American made Saniclave 200 is available for about $1,000 USD.
About Revolutionary Science
In 1999, Revolutionary Science was founded after the birth of the company's first microcentrifuge. Years later, Revolutionary Science designs and manufactures incubators, centrifuges, autoclaves, automated cell and colony counters and water baths.
Registered with the FDA and ISO, Revolutionary Science is a Minnesota company dedicated to the manufacturing of precision life science and sterilization equipment.