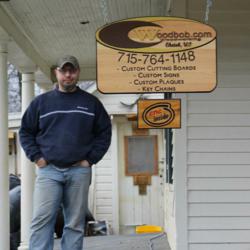 (PRWEB) April 29, 2013
Robert Wendt, owner of Woodbob.com Woodworking, is always thinking of new and exciting ideas for the cutting boards he designs. Woodbob.com Woodworking is based out of Chetek, Wisconsin, in a small work shop, behind Robert's home. Robert did not realize how his dream could become reality when he started his woodworking hobby, but with a lot of hard work and determination, the reality set in faster than he could ever imagine. With the state shaped cutting boards he has been selling through his Etsy webpage, he is always continuing to expand his product line and is now featuring the custom-shaped board option.
Robert's cutting boards are more than just a surface to cut on, they are of the highest quality and provide an excellent style to the kitchen. From a state and province shaped board to countries or custom-shaped boards, the ideas are endless in imagination.
Robert's custom-shaped cutting boards give his customers the option to request the board shape they would like whether it be a regular square or rectangle cutting board or a specific shape the customer may have in mind. These opportunities have given Robert the ability to explore his ideas for different shaped cutting boards. Robert also offers custom engravings to any board as well.