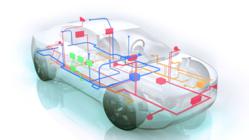 Eindhoven, Netherlands and Hamburg, Germany (PRWEB) April 29, 2013
NXP Semiconductors (NASDAQ: NXPI) - the world's largest supplier of in-vehicle networking semiconductors – today announced availability of the TJA1083, TJA1085 and TJA1086 FlexRay transceivers. NXP now delivers the industry's most comprehensive portfolio of FlexRay transceivers to the automotive market – offering OEMs a one-stop shop for their FlexRay networking designs. Fully compliant with JASPAR and EPL 3.0.1 certifications, NXP's complete FlexRay portfolio is expected to further promote the adoption of FlexRay technology within the global automotive industry.
The TJA1083 is a FlexRay "clamp 15" node transceiver in a compact TSSOP14 package, while the TJA1085 and TJA1086 are both FlexRay active star couplers. The TJA1085 offers four branches, while the TJA1086 comes with two – both in a leadless HVQFN44 package with wettable flanks. All three transceivers deliver a significant improvement in EMC performance, providing 48V board net support and gap-free specification. With gap-free specification, the behavior of the transceiver is specified over the full voltage for each supply down to the undervoltage detection level.
As cars continue to evolve into ever more sophisticated and connected environments, there is an increasing demand from manufacturers for flexible, cost-effective in-vehicle networking solutions designed for specific automotive applications. NXP's FlexRay transceivers are a natural successor to older CAN-based systems and are ideal for safety-relevant applications such as ADAS, chassis and power-train sensors, enabling communication with the ECU in a fast, reliable and deterministic manner. As such, they complement other high-speed transceiver technologies such as Ethernet, which are better suited to infotainment applications. Furthermore, the faster rate of data exchange (10Mbps) that FlexRay enables between ECUs also means that the vehicle is more responsive, and can deliver more efficient fuel consumption and a reduction in CO2 emissions.
"With the launch of the TJA1083, TJA1085 and TJA1086, we now offer the most complete FlexRay portfolio in the industry, further underscoring our position as the world's No. 1 supplier of FlexRay transceivers, with more than 15 million pieces shipped to date," said Rob Hoeben, director of marketing and business development for NXP Semiconductors' Automotive business line. "NXP is committed to helping our customers bring fast, reliable and cost-efficient applications to the cars of the future." 
Links

About NXP Semiconductors
NXP Semiconductors N.V. (NASDAQ: NXPI) provides High Performance Mixed Signal and Standard Product solutions that leverage its leading RF, Analog, Power Management, Interface, Security and Digital Processing expertise. These innovations are used in a wide range of automotive, identification, wireless infrastructure, lighting, industrial, mobile, consumer and computing applications. A global semiconductor company with operations in more than 25 countries, NXP posted revenue of $4.36 billion in 2012. Additional information can be found by visiting http://www.nxp.com.
Forward-looking Statements
This document includes forward-looking statements which include statements regarding NXP's business strategy, financial condition, results of operations and market data, as well as other statements that are not historical facts. By their nature, forward-looking statements are subject to numerous factors, risks and uncertainties that could cause actual outcomes and results to be materially different from those projected. Readers are cautioned not to place undue reliance on these forward-looking statements. Except for any ongoing obligation to disclose material information as required by the United States federal securities laws, NXP does not have any intention or obligation to publicly update or revise any forward-looking statements after NXP distributes this document, whether to reflect any future events or circumstances or otherwise. For a discussion of potential risks and uncertainties, please refer to the risk factors listed in NXP's SEC filings. Copies of NXP's SEC filings are available from the SEC website, http://www.sec.gov.