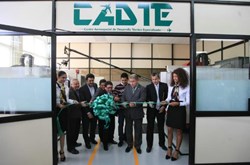 Tijuana, Mexico (PRWEB) April 29, 2013
"The CADTE will train technicians how to manufacture precision parts to meet the strict quality standards required by the aerospace and defense industry" said Tomas Sibaja, Chairman of Baja California Aerospace Cluster during the inaugural ceremony. "CADTE graduates will join the growing talent pool of the aerospace industry in Tijuana".
The Center is part of the growing aerospace education program in Tijuana offered by local universities. Other programs include Tijuana's Technical University Center for Engineering, Baja California's State University graduate programs in Aerospace Engineering and CETYS private technical institute Aerospace Engineering bachelors program.
The CADTE will join another three Aerospace Centers within the state, with a total investment in equipment of nearly half a million dollars. Tijuana Technological University (UTT) will be home to the second of the aerospace centers planned to open in late June.
The center was sponsored in part by Zodiac Aerospace who supported the facility equipping, as well as being involved in the development of the training programs. The Center offers strong technical content and is designed to meet AS9100 standards and regulations.
Aerospace and defense industry thrives in Baja California; currently this state is Mexico´s aerospace capital, is home of 50% of country´s employment in the sector with 16,000 jobs and over 50 companies, from leading firms such as Eaton, Zodiac, Lockheed Martin, and Gulfstream. Additionally the region offers a wide array of contract manufacturers and certified suppliers.
Aerospace is a key part for the future growth of Baja California´s industry. The Aerospace Industry Association (Aero-Cluster) seeks to foster growth and stability by creating initiatives to help the local supplier base become more competitive.
With this purpose the cluster will showcase business opportunities at the 4th edition of the Baja Aerospace Forum, on August 29th at the recently opened Metropolitan Convention Center. This premier event will provide attendees with an overview of business opportunities within Baja California aerospace and defense industry, and will gather buyers and suppliers at a B2B matchmaking event, additionally Tijuana EDC will host an industrial tour visiting world-class operations of leading industries of the sector. For more information visit http://www.bajaaerospaceshow.com .
About Tijuana EDC: Nonprofit corporation dedicated to help companies to establish successful manufacturing operations in Mexico and to take advantage of business opportunities of vertical integration introducing qualified Mexican suppliers and accessing new markets. For more information on how to take advantage of these opportunities contact the Tijuana EDC at contact(at)tijuanaedc(dot)org or visit our website http://www.tijuanaedc.org