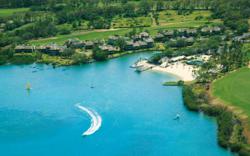 Buyers are attracted to Anahita as it is a well established and fully operating resort with an excellent reputation.
London, UK (PRWEB UK) 30 April 2013
Located at the heart of the Anahita Resort development in Mauritius, Amalthea is a distinctive neighbourhood bordered by lush, manicured fairways, natural gardens and a wondrous alley of trees. Composed of 11 villas, 6 pairs of townhouses and 40 lodges, the residences reflect a contemporary style of local architecture, where indoor and outdoor spaces blend seamlessly – typifying the art of Mauritian living.
Joanna Leverett, head of international new developments, Savills, said: "Buyers are attracted to Anahita as it is a well established and fully operating resort with an excellent reputation. A number of British people own homes on Anahita and there is already an active resale market. People are attracted to the lifestyle on offer on Mauritius, an island famous for its beaches, golf and very friendly atmosphere. Anahita in particular has an interesting international community with existing homeowners: a mix of British, Swiss, American and other European nationalities, mainly families and successful business people. Buyers see their property as both a holiday home and an investment, with may people renting the property through the rental pool when they are not using it to provide an income."
Generous verandas encourage life to spill outside to comfortable and spacious seating and dining areas. The light, bright and open residences have been conceptualised to embrace the tropical surroundings. Natural textures, tones and furniture feature throughout the property design, which is inspired by the island's stunning landscapes, flowers and corals.
Situated within a pedestrianized and landscaped neighbourhood the properties are accessible only by golf cart and bordered by fairways 1, 8 and 9 of the Ernie-Els designed golf course at Anahita. As such, residents of the neighbourhood are in the perfect location to enjoy all that is offered on the 213-hectare Anahita estate.
Amalthea residents benefit from living at 'Anahita The Resort', which has become successfully established as a privileged 5* resort offering. All properties are fully serviced and managed, including 24 hour concierge and housekeeping services. Owners also have full access to Anahita's beach, pool, restaurant, sports facilities and services.
Nestled on the east coast of Mauritius, Anahita is a fully established residential resort, home to the Four Seasons as well as a selection of luxury villas and residences that blend with the natural environment. The resort is also home to arguably the best golf course on the island. The Ernie Els signature 18-hole/par 72 USGA course us carefully woven into the tropical landscape and winner of the African Property Award for Best Golf Development in 2008. Set against a backdrop of lush mountains, fringed by a vast, crystal-clear lagoon and with five sets of tees and six stunning ocean side holes the spectacularly situated course also provides a Mauritian styled clubhouse with restaurant and panoramic views.
Located on six kilometres of oceanfront shoreline, the heart of the resort 'La Place Belgarth' is a vibrant village hosting a number of exclusive shops and boutiques as well as a full range of services for homeowners to enjoy. With white sandy beaches & double edge infinity pool the village is more than stunning, as it also boasts many facilities for guests and resident use.
Delicious culinary experiences are a plenty, including the fabulous 'Origine', a contemporary Mauritian restaurant. Relaxation is a must at 'Anahita Wellbeing' which provides clients with a wide selection of treatments either in the open by the sea, or in the privacy of their own suite. The personal fitness centre and plethora of sports activities will ensure there's an activity for everyone and the 'OurSpace Kid's Club' and 'Escape Teen's Club' provide a dynamic and fun environment for the younger generations.
As part of the Integrated Resort Scheme (IRS), buyers may qualify for Mauritian residency when investing at Anahita. Purchasers will also benefit from an attractive year-round climate, political and economic stability and no inheritance or capital gains tax. There is also a rental scheme opportunity which benefits from solid rental returns.
Amalthea indicative entry prices range from €490,000 for the lodges to €630,000 for mid-range duplex, and villa prices starting at €790,000.
Offered for sale through Savills, anyone interested in investing in property at Amalthea should visit http://www.anahitaproperty.co.uk.
About Savills
Savills plc is a global real estate services provider listed on the London Stock Exchange. Savills has an international network of more than 500 offices in 45 countries and associates throughout the Americas, the UK, Europe, Asia Pacific, Africa and the Middle East, offering a broad range of specialist advisory, management and transactional services to clients all over the world.