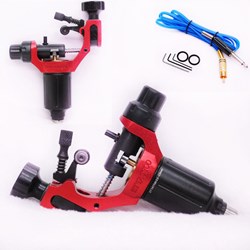 (PRWEB) April 29, 2013
Today, TattoosFactoryOutlet.com releases its new tattoo machine equipment collection. The company is a leader in the field of professional tattoo machines, offering hundreds of premium quality tattoo supplies.
The new collection consists of different styles of Swiss rotary tattoo machines, tattoo kits, tattoo power supplies, tattoo needles, tattoo inks, tattoo grips, and more. TattoosFactoryOutlet.com's products are well-known for the trendy designs, functionality, durability, and delicate craftsmanship, and the new collection is no exception.
"We are happy to release the new collection to our customers. As usual, we maintain our high standards by designing and manufacturing these new products. For quality tattoo equipments at great prices, you've come to the right place," says Mr. Zheng, CEO of the company.
The company is offering a large selection of tattoo supplies, and that is enough for any picky tattoo artist or distributor. The fast evolving customer-oriented products and services have helped TattoosFactoryOutlet become one of the world's leading brands of tattoo machines.
In addition, the company is providing similar discounts on its hundreds of etc. The company is striving to provide each wholesaler or retailer a one-stop shopping experience for tattoo supplies.
About TattoosFactoryOutlet.com
Founded in 2008, TattoosFactoryOutlet.com is a well-known tattoo machine manufacturer and wholesaler, With flexible marketing strategy, trendy styles, and affordable prices, the company has become a leading brand in the tattoo machine industry.
For more details, please visit http://www.tattoosfactoryoutlet.com