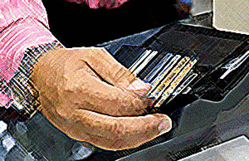 differences between credit card interest rates can be stark and getting a product with a low interest rate could be the difference between paying off quickly and being trapped in a debt cycle
London (PRWEB UK) 29 April 2013
According to a report from UK cashback website Quidco, British consumers are increasingly relying on credit cards to bridge the gap between paydays. More than 60% of people are now struggling to make their monthly salary cover all the bills accumulated in a given month and around 50% are turning to credit cards to plug the short fall.
The average monthly overspend per-person now stands at a whopping £180 (12% of the average UK monthly salary). The reason for each overspend is undoubtedly specific to the individual; the Scotsman highlights, "...budgets squeezed due to the spiralling costs of food and utility bills, as well as the rising price of petrol..." as issues for some people. However, Quidco's research also indicates that more than 25% of people acknowledge that it is their 'unnecessary spending' which forces their credit card use.
A compareandsave.com spokesperson commented:
"On the face of it, these figures are somewhat depressing, but given the tough economic circumstances they are not necessarily surprising.
"If there is any positive news to draw from this report, it is that credit card interest rates are traditionally lower than payday loans, so people are potentially accessing relatively cheap credit.
"Ultimately we all need to make sure we are balancing our books, but if people do have to rely on credit cards it's import that they acknowledge the fact early on and prepare themselves by getting the best credit card they can.
"The differences between credit card interest rates can be stark and getting a product with a low interest rate could be the difference between paying off quickly and being trapped in a debt cycle!"
____________________
compareandsave.com is one of the UK's leading personal finance comparison websites. Based in Colchester, Essex, compareandsave.com has been helping UK consumers get a better deal on credit cards, savings accounts, personal loans and more for over five years.