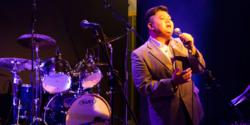 Appearing on The Voice is a fantastic opportunity for Joseph and we're all behind him
Gillingham, Kent, UK (PRWEB UK) 29 April 2013
The vocal talents of a gifted MidKent College student will be shared with millions when he appears on the hit TV show The Voice.
Joseph Apostol, 21, from Gillingham, will attempt to win support from some of the biggest names in music when he takes to the stage on the BBC One ratings winner this weekend.
And should he perform like his tutors at MidKent College know he can, Joseph stands a fantastic chance of being picked for one of the four teams led by pop superstars Sir Tom Jones, Jessie J, will.i.am or Danny O'Donoghue.
"Joseph is a really amenable, lovely student," said Louise Molton, head of Creative & Visual Arts at the Medway Campus.
"He's very humble in terms of his own vocal skills but we're confident he can go on to achieve great things in his career."
"Appearing on The Voice is a fantastic opportunity for Joseph and we're all behind him."
Joseph has already performed several times in front of staff and students at MidKent College, including at the opening of the Medway Campus' new soundproof live room last November.
He also received a standing ovation at the annual Student Awards ceremony in January after wowing the audience with another spectacular display of his vocal talents.
The Voice airs on BBC One this Saturday (4 May) at 8:05pm.
Click here for more information about Music courses at MidKent College.