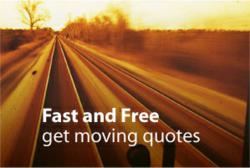 (PRWEB) April 29, 2013
MoveNetwork.com announced that people can now request free quotes from the top international moving companies within minutes. Dependable service providers will send competitive quotes directly to them. The companies will offer their lowest rates because they will be competing for the customer's business.
People will receive quotes from pre-screened international moving services that are part of Move Network database. The credentials and reputation of the movers are checked carefully before they are included in the database. Their performance is reviewed at regular intervals to ensure that they are providing excellent service.
People are advised to shop around and compare quotes from a few reputable companies before deciding. They need to browse through online reviews to check the reputation of the service providers they are considering. MoveNetwork makes it easy for people to request quotes from the best international moving companies. This is a free, no-commitment offer.
Look for a reputable international moving company: Moving across international borders is much more complicated than moving within the country. It is essential to pick a service provider with a proven track record of moving household possessions to the customer's destination. A company that has the necessary know how, contacts, trained personnel, and equipment will help the customer to make a hassle-free overseas move.
Pick the right moving options: People can look for affordable moving options that help them to fulfill their requirements. For example, items can be moved to the destination quickly by air, but this costs much more than shipping them by sea. Transportation by air could be considered for moving lightweight items that will be required immediately at the destination. Heavier items that will be needed later can be dispatched by sea.
Make an exploratory trip to the country: People need to find out as much as they can about the country where they will be living. They can find a lot of useful information via the Internet and from the embassy of the country. However, it is best to visit the country to make necessary arrangements and to find out about the items that will be needed to settle down there. This can help people to avoid taking items that are available at the destination.
Move Network makes it easy to obtain free quotes from the top overseas movers. People can find out about the best deals that are currently available. This is a free, no-commitment offer.
About Move Network
The company has been helping its customers to find the best moving deals since 2001. Move Network has been working tirelessly to educate people about how they can make stress-free relocation. It has created a comprehensive moving guide on its website that provides practical tips and advice. Its database of reputable moving companies enables it to fulfill the requirements of people quickly.