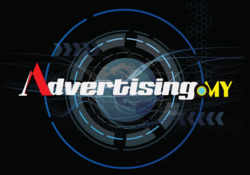 Since the start of 2013, Advertising.my has been expanding rapidly and aggressively, bringing more cutting-edge and effective services to add to its current impressive offerings.
Kuala Lumpur (PRWEB) April 29, 2013
Advertising.my, established more than 10 years ago, has been one of the major movers of the Malaysian advertising market. From its beginnings as a digital and online advertising agency, it has since grown to become one of the few firms in Malaysia that offer a full-range of above-the-line and below-the-line advertising services.
Since the start of 2013, Advertising.my has been expanding rapidly and aggressively, bringing more cutting-edge and effective services to add to its current impressive offerings. From LED technology digital advertising boards to mobile marketing, Advertising.my has been offering more options for its clients in development more effective advertising campaigns.
As part of its expansion plans this round, there will be yet more options for advertisers to choose from. The new services can be implemented as stand-alone or be integrated with other media and channels offered through Advertising.my.
Among the new services to be included this time around are copywriting services. Copywriting has been one of Advertising.my's forte since the start and this service will now be made available as a stand-alone service. This means that clients and partners can now engage copywriting as a single service. This service will encompass a full-range of copywriting activities that include production, conception and development. From writing of long and short copies for advertising, clients can engage other copywriting services like editing of annual reports, advertorials and other publications.
In the LED-technology segment, Advertising.my will expand its reach to more media and new channels. This will complement the current list of LED-based products that are already in the market. Advertising.my will be embarking into new areas that include custom made LED screens that can be used in various spaces. The LED screens used are sourced from the top manufacturers around the world where they are affordable, practical and easy to install. Apart from that, there will be new interactive LED screens available as well.
Where necessary, Advertising.my provides services in production of kiosks and sculptures. In this area, customers can now engage the agency's expertise in design and production. As kiosks can be used for several reasons like mobility, retail and for information dissemination, a new service is now available where clients can now install kiosks that are consistent with their corporate image and brand identity. This will be done through the consultation and conceptualizing of ideas between the agency and the client.
If needed, Advertising.my can provide design services to create sculptures for the business premises. The design of sculpture will be carried out with the client while the production of the artwork will be done by the in-house designers of Advertising.my.
As a one-stop advertising agency that provides a full range of services in this segment, Advertising.my now provides signage licensing services as well. This means that clients who are looking to enact their own mobile billboards or digital signage would only need to engage Advertising.my once and the rest of the processes will be taken care of.
Advertising.my will be venturing into the application of trademarks for its clients as well. This service will be extended to clients who require such services and will be available for both the Malaysian and Singaporean markets respectively.
In this round of expansion, Advertising.my will be offering a revolutionary service which is in the video production and YouTube advertising options. Clients can now engage the agency for video production and marketing. This is where Advertising.my will be able to provide services that start from conceptualizing of the idea to the initial design before the final artwork is produced.
From there, the video can then be released to the client or alternatively, they can be used in video marketing involving social media like YouTube and Facebook. Clients can be assured of an effective campaign in video marketing as online marketing and advertising are expertise areas from Advertising.my, having been involved for more than 10 years now.