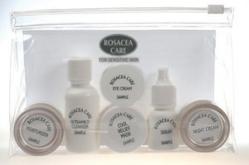 William Perry, president of the Rosacea Care Company, says, "We tell our customers that we don't want them to buy our full sizes until they have thoroughly sampled the products and found them effective over at least a ten day period."
Pittsfield, Massachusetts (PRWEB) April 30, 2013
Rosacea is a skin disorder that affects more than 16,000,000 Americans, and according to William Perry, president of the Rosacea Care Company, they are spending millions of unnecessary dollars each year trying to find remedies that they hope will help.
"Experimenting with full size products can be a costly mistake," Perry says. "That is why Rosacea Care has developed the most comprehensive sampling program in the industry and is announcing this week the addition of a fifth sample kit -- our Spa Kit -- to the four already being offered." The Spa Kit offers the six Rosacea Care products most often used in spas and salons.
Rosacea is a skin condition of the face characterized by redness, frequently accompanied by pimples and visible blood vessels. There is no cure, but it is possible to control the symptoms if people can search out the particular products that work best for them. And this is where the unnecessary expenditures come in. Perry says that the greatest complaint from rosaceans is that they spend far too much money on trying full-size products that may be effective for some sufferers but not for others. The reasonably-priced Rosacea Care sample kits offer a cost-effective approach to finding what works.
In addition to the Spa Kit, Rosacea Care offers a Starter Kit with five products, a Comprehensive Kit with eight products, and specialized kits devoted to concealers and zinc-oriented products. Perry says, "We tell our customers that we don't want them to buy our full sizes until they have thoroughly sampled the products and found them effective over at least a ten day period."
Perry points out that there are two immediate results to this approach: the rosacean knows in advance what products will be worth buying in full sizes, and the company has virtually no product returns. "Look before you leap, my mother used to tell me," to which I would add, "Try before you buy."
Rosacea Care offers the world's most comprehensive line of professional skin care products for the treatment of rosacea and sensitive skin. Each of the Rosacea Care products has been exclusively designed and developed by leading dermatologists and research laboratories to provide a helpful and supportive response to these skin conditions. The family-owned company, founded in 2000, is based in Pittsfield, Massachusetts. Rosacea Care has customers in 80 countries.