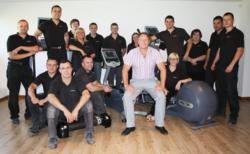 (PRWEB UK) 30 April 2013
A study on mice has shown that frequent exercise can reduce the risk of liver cancer. With liver cancer being the fifth most common in men, these findings could be crucial in reducing death rate. Gymkit UK, a supplier of fitness equipment, support this notion and aim to make exercise as accessible and convenient for people as possible. They do so by providing affordable, high grade gym equipment that customers can install in to their homes and exercise as and when it suits them.
Nicole, former personal trainer and Brand Manager at Gymkit UK said "Everybody leads such busy lifestyles these days, it is important for exercise regimes to be as flexible as possible so that they can be maintained. Having equipment at home is a great way of doing this because it means that your exercise routine is not affected by weather, having to travel or a busy timetable. You can exercise when you want – even in front of the TV!" Gymkit UK stock items including treadmills, cross trainers, exercise bikes, rowing machines and much more so they are able to cater for everybody's needs.
Gymkit UK was founded in 2001 and since then, they have experienced years of success. Not only do they provide an accessible way to exercise, they also make maintaining an exercise regime less expensive for the customer. This is because once the gym equipment is purchased the customer avoids costly gym memberships and the equipment is of high quality so it will endure years of use. They are therefore probably one of the few businesses that has benefited from the looming recession. Alongside over 5000 items of stock, Gymkit UK employees mostly have vast fitness equipment. Furthermore, with over 20 fully qualified service engineers, Gymkit UK ensure that all gym equipment is dispatched fully working but are also on hand to repair any fitness equipment if need be. In more recent years, the company has also become the UK sole distributer for Teeter Inversion equipment and One Polar rucksacks. Teeter Inversion products have proven to be extremely popular and are aimed at those that suffer with back problems.
If you are an individual or business looking to purchase or sell gym equipment, please contact Gymkit UK on 01733 205551 or visit their website http://www.gymkituk.com. Otherwise, please visit their showroom based in Whittlesey, Cambridgeshire Monday-Friday 9am-6pm.