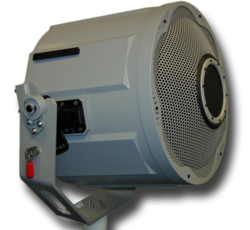 HyperSpike acoustic hailing devices are important tools in maritime security by helping to keep passengers safe and out of harm way; while safely helping shape the behavior of approaching targets that may become unruly
Columbia City, Indiana (PRWEB) April 30, 2013
Ultra Electronics – USSI announces today it has received another large order from a major cruise line for HyperSpike Acoustic Hailing Devices (AHDs) for maritime security.
HyperSpike AHDs have an effective communication range of 500 to 3000 meters depending on the model. HyperSpike AHDs transmit crystal clear voice with an average Speech Transmission Index (STI) of 0.85 out of 1.0. The line-in cable on HyperSpike AHDs allows the operator the capability to use any commercially available MP3 player. With an MP3 player, the operator has the capability to play a prerecorded message in any language to an approaching threat.
"HyperSpike acoustic hailing devices are important tools in maritime security by helping to keep passengers safe and out of harm way; while safely helping shape the behavior of approaching targets that may become unruly," said Patrick Allison, Head of Marketing and Sales at Ultra Electronics – USSI.
"Every emergency vehicle, be it police, fire, search and rescue, or maritime ships should have a hailing devices readily available and mounted," said Gavin Washburn of Perpetual Solutions and a HyperSpike distribution partner. "I have seen firsthand the value in having an AHD ready available to help communicate with approaching threats."
HyperSpike AHDs are light weight, weighing only 18 lbs (8.1 kg) to 90 lbs (40.8 KG), and can easily be transported to different areas of a ship. With a best-in-class size to power ratio, HyperSpike AHDs are the ideal choice for customers looking for an AHD that can penetrate high background noise environments and is easy to transport.
Ultra Electronics - USSI is an innovative global supplier of highly intelligible, ruggedized, long range acoustic communication devices, and high power and commercial speaker arrays. Being deployed world-wide, these products are used in diverse applications such as crowd control, mass notification, border/port security, law enforcement, maritime security, perimeter protection, and more. To find out more or request a demonstration, please visit Ultra-HyperSpike.com