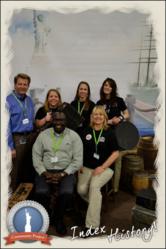 "When a society or a civilization perishes, one condition can always be found. They forgot where they came from." ------Carle Sandburg
Liberal, Missouri (PRWEB) April 30, 2013
AncestorEbooks encourages their customers to congratulate family history volunteers on their one billionth record that has become available for searching. To index the records, volunteers must view pictures of signatures, dates, and other handwritten records like those available at a county courthouse.
It is as simple as downloading the software, then when volunteers can take a few minutes while waiting for children to get out of school, sitting in a doctors office, or on a lunch break they can work on translating written records. According to the FamilySearch Blog, on 1 April 2013, FamilySearch added 19,206,333 images to the New United Kingdom, WWI Service Records, 1914-1920 Collection.
Between 1921, when indexing records began, and 2006 when the indexing software became available, nearly 500 million records were indexed. There are currently over 585,000 volunteers and together they are indexing more than one million records every day.
FamilySearch is a free service provided by The Church of Jesus Christ of Latter-day Saints. For over 100 years, FamilySearch has shared birth, death, census, and immigration records worldwide free of charge. As soon as the records have been indexed and checked for accuracy, they are published and made available as searchable documents. Some volunteers give hours a day indexing records, others may only donate a few hours a month, but all the volunteers played a role in reaching the one billion records mark on April 22.
Technological advances have rapidly increased the speed and accuracy of indexing over the years, allowing volunteers to participate in various forms of indexing involving paper, microfilm and then CD-based copies of records since 1921. By 2006, when FamilySearch indexing software became available online, volunteers had managed to transcribe between 800 to 900 million records. Since its launch, the number of volunteer-indexed records has more than doubled.
"The ability to search genealogical records online by name, date and location is helping to accelerate family history research like nothing before. With 2.4 million rolls of microfilm in the Church's Granite Mountain Records Vault undergoing digital conversion and 200 FamilySearch camera teams capturing images from archives, as many as 35 million new digital images from all over the world are published online each month." [Newsroom of the Church of Jesus Christ]
AncestorEbooks would like to remind others that genealogy is for everyone. As Mike Judson, who is the manager of the Indexing Workforce Development for FamilySearch, said, "We all have parents, we all have grandparents, and universally I think we are all interested in who those people are and where they came from, which ultimately tells us about ourselves. The more records we index, the more others can experience the joy of finding their ancestors and discovering those connecting stories to their past."