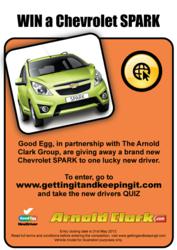 United Kingdom (PRWEB UK) 30 April 2013
Newly qualified drivers are up to 17 times more likely to crash than an experienced driver, and 40% of all car passengers killed or seriously injured in a collision are being driven at night by a young driver who has recently passed their driving test.
The Good Egg Guide for New Drivers is a vital resource for young drivers across the United Kingdom. It's the complete guide to getting a driving licence and keeping it. It includes tips on choosing the right instructor, passing the theory and practical tests, buying and insuring a first car, traffic law and, vitally, staying safe – including some sobering facts about drink and drug driving. For as the figures reveal there is more to becoming a safe driver than simply passing one's test.
Professor emeritus Stephen Stradling, Edinburgh Napier University says: "This excellent guide will help new drivers protect their safety margin and stay safe through the crucial first 6 months after passing their test."
Sir Arnold Clark, Chairman and Chief Executive of the Arnold Clark Group, says: "I regard this new guide to be essential reading for every new driver and I cannot recommend it highly enough. There is no doubt that education saves lives, and we're asking for as much help as possible in getting the message out to the widest number of young drivers, and parents of drivers."
WIN A CAR
As supporters of The Good Egg Guide for New Drivers Arnold Clark Group are offering visitors to the associated website a chance to win a Chevrolet Spark car.
One 17 to 25 year old will win a brand new car when the competition closes at the end of May.
To enter the competition visit http://www.gettingitandkeepingit.com/competition.php and complete the quiz.
The answer to every question can be found on The Good Egg Guide for New Drivers, website, so it's a great incentive for young drivers to read it through and get the facts. Simply get all the questions correct and you automatically go into the draw.
The Good Egg Guide for New Drivers aims to reduce road casualties by providing new drivers with an easy to understand resource that will help them get their licence and keep it, while staying safer on the roads. It is fully endorsed by Road Safety GB and allocations of free copies are being distributed to local authorities across the UK.