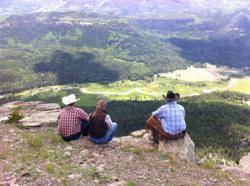 "Rainbow Trout Ranch is a fantastic family vacation." Title of a guest review on Trip Advisor.
Antonito, CO (PRWEB) April 30, 2013
Southern Colorado dude ranch Rainbow Trout Ranch has received a total of seventy one "excellent" reviews on the popular travel site Trip Advisor.
To quote from their site, "Trip Advisor offers trusted advice from real travelers" and goes on to say that it is "Unbiased hotel reviews, photos and travel advice for hotels..." Travelers are encouraged to review restaurants, hotels, motels, lodging and anything travel related by going to the main website and submitting their comments. Business owners are able to respond to comments, but cannot change or edit them, making it a trustworthy method to seek traveling advice and tips. Reviewers are able to rate properties from one (terrible) to five (excellent) in addition to their comments on the main Trip Advisor website.
Dude ranches do not fall under the typical hotel categories with large numbers of reviews, but guests at the Rainbow Trout Ranch have posted a total of seventy one reviews since July 2008 and the ranch is listed as #1 of 5 "specialty lodgings" in the area.
Excerpts from Trip Advisor reviews of the ranch range from "Rainbow Trout Ranch is more than just somewhere to go on vacation," to "We have been to 5 dude ranches over the years, and RTR was definitely the best," to "A place you will keep wanting to return to" and "I wish I could give them 10 stars!"
About Rainbow Trout Ranch
Rainbow Trout Ranch is a family owned dude ranch in excellent standing with both the state and national dude ranching associations, and exclusively "excellent" reviews on Trip Advisor. The ranch has a long tradition of providing superb western hospitality for families, couples, groups and singles looking for an adventure vacation in the Rocky Mountains of southern Colorado. Inquiries can be made to 800.633.3397 or the website.