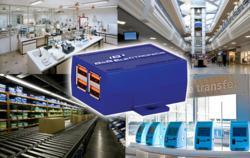 Ottawa, IL (PRWEB) April 29, 2013
B&B Electronics Manufacturing Co., Inc., a leading developer of rugged wireless and wired M2M connectivity solutions for harsh environments, today expanded its family of industrial-grade USB 2.0 hubs with the UH104, an affordable, four-port mini USB hub used to connect multiple peripheral devices to a single USB port. Powered exclusively by the host USB port, it provides downstream devices with 100 mA of power and High Speed USB connectivity at 480 Mbps. Designed for easy mounting in harsh environments and cramped spaces, the mini (2.4 x 1.75 x 1.10 in, 6.1 x 4.45 x 2.79 cm) USB hub features a rugged ABS plastic housing, built-in mounting tabs, a wide (-40 to 80°C) operating temperature, and B&B Electronics' signature high-retention USB connectors that require up to 3.4 lbs. of force to disconnect, ensuring tight connections even in high-vibration situations.
The UH104 is made primarily for industrial automation, instrumentation, security, kiosks, point-of-sale and laboratory market applications. The hub is designed, tested and proven rugged enough for industrial EN61000-6-1 harsh environments. Its construction was validated using IEC60068-2-32 drop testing, and it also adheres to 15 kV ESD protection and FCC / CISPR Class B standards.
This entry-level hub, priced at $129 MSRP, shares many of the features of B&B's top-of-the-line USB hubs, although it does not include their built-in surge protection and electrical isolation, features that are intended for use in ultra-rugged applications. It carries a 5-year warranty and is available directly from B&B Electronics and all of its distribution partners: http://www.bb-elec.com/How-to-Buy/Find-a-Distributor.aspx.
Product information: http://www.bb-elec.com/Products/USB-Connectivity/Hubs/Four-Port-Industrial-USB-Hub.aspx
About B&B Electronics:
Founded in 1981, B&B Electronics Manufacturing Co., Inc. provides M2M connectivity solutions for wireless and wired networks based on serial, Ethernet, wireless and USB communication technologies. Specializing in connectivity out at the "edge" of networks in remote, harsh and uncontrolled environments, the company is known globally for its easy to use, rugged and reliable device networking products, as well as for its knowledgeable technical support and responsive customer service. B&B Electronics is located at 707 Dayton Road, P.O. Box 1040, Ottawa, IL 61350, 800-346-3119 and at http://www.bb-elec.com on the Internet.