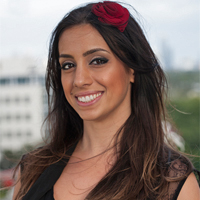 Maria develops online strategies with clients, and creates custom online marketing campaigns.
Fort Lauderdale, Florida (PRWEB) April 30, 2013
Pay per click campaign management expert, Maria Perilli has recently joined Webponder.com, an online expert advice website which connects individuals looking for advice or expertise with professionals and experts in a variety of fields through live video consultations. Maria is a search engine marketing expert who can advice individuals on a variety of different online marketing techniques.
Maria is the VP of Marketing and Operations for PPC Professionals, an online marketing company based out of Fort Lauderdale, Florida that focuses on increasing their client's business through pay per click campaigns and search engine marketing, otherwise known as PPC and SEM respectively. Maria's focus at PPC Professionals is on strategic planning and the implementation of website development and other online marketing strategies.
Webponder.com has a broad selection of different experts and professionals listed in its expert directory such as attorneys, doctors, technology experts, and auto experts. Visitors to Webponder.com are looking to reach out to these professionals for a number of reasons, including to get legal advice online, get basic information from a medical professional on a condition, learn how to improve their business' online presence, or get a recommendation on car tune up cost. Experts choose their own rate they are willing to have a consultation at, and many experts offer a free initial consultation.
Maria develops strategies with clients, and creates custom online marketing campaigns with the goal of driving their clients higher in search engine rankings, even in the most competitive search categories. Maria obtained her bachelors degree from CUNY Lehman College.
For visitors looking to connect with Maria, or any other professional, simply search Webponder.com's expert directory, view the profile of the expert that is a good fit, and click on "Request a Meeting." Once the expert reviews the subject and date and time of the request, and "Approves" the request, both parties log in to Webponder at the scheduled time, and meet face to face through video chat.
Inquiries for PPC Professionals can be sent to Maria Perilli at (954) 606-5359, and inquiries for Webponder.com can be sent to Managing Director Steve Thompson at (305) 373-7775.