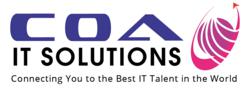 Piscataway, NJ (PRWEB) April 30, 2013
COA IT Solutions has recently revamped its website and updated its database iTalentMatch™ that contains resumes of over 250,000 unique candidates. These are resumes for passive candidates that are not typically posted on job boards thereby giving clients access to unique candidates, dedicated to specific technologies. Typically, other staffing companies would rely on job boards and try to source candidates actively looking for work.
COA IT Solutions provides a dedicated Account Manager for its clients at no upfront cost. The Account Manager personally expedites the client's request to fill specific job vacancies, sometimes as fast as within 24-48 hours, following an IT staffing model that includes contract hires, contract-to-permanent hires and full-time hires. COA IT Solutions also has access to a vast pool of IT contractors who are on H1B Visa status through a network of hundreds of consulting companies.
COA IT Solutions.com has a separate unique offering called SmartSourcing™ for its clients that are looking to put together lower cost teams of remote workers. It allows them to hire the top 1% of software engineers in India, some of whom have already worked for companies like Microsoft, Amazon and Google. SmartSourcing simultaneously allows its clients to save a great deal of money while accessing top-tier talent.
About COA IT Solutions.com
COA IT Solutions, LLC, a division of 20-year-old COA Network, is a proven leader in IT Staffing as well as Application Development. IT Staffing provides expert local resources that work onsite at their clients' premises while their SmartSourcing™ staffing model provides top-tier, dedicated remote talent at their off-shore development center in India.