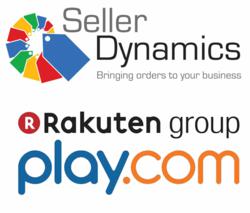 Seller Dynamics' clients old and new can grow sales and profits with this unique best-of-breed repricing feature on Play.com…

Steve Boland - Seller Dynamics
Stirling, Scotland (PRWEB UK) 30 April 2013
Seller Dynamics' clients can now sell on Rakuten's Play.com knowing that every item they stock is matched against its competitors and dynamically repriced 24/7, keeping their products at the top of listing pages viewed by 14 million registered customers on Rakuten's Play.com.
Seller Dynamics are the first in their field to offer clients this type of automated repricing service on Rakuten's Play.com, an online marketplace owned by Rakuten Group. Existing and new clients of Seller Dynamics are now able to reap the benefits of a feature which reprices items both upwards and downwards multiple times a day, regardless of how many stock-keeping units are listed.
With other repricing software only moving marketplace listed prices downwards, with any upward reset only taking place overnight, Steve Boland of Seller Dynamics believes that their 24/7 dynamic repricing feature offers a new dimension to sellers on Rakuten's Play.com..
"Our clients have benefited greatly from our best-of-breed dynamic repricing feature on other marketplaces, so we're thrilled that we've been able to replicate this for Rakuten's Play.com. Even if prices are set at pennies lower than competitor prices, this could make the difference in closing a sale, while automatic upwards repricing to sit just below the nearest competitor ensures our clients will always be earning the maximum possible margin from their sales. Our system also takes into account exchange rates and reprices the same item independently in either Pounds Sterling or Euros. We have always encouraged our clients to sell abroad through multiple marketplaces, so with this latest development we are confident our clients will boost sales and optimise their profits both home and away."
Continuous improvement is an integral part of the Seller Dynamics business model and Steve Boland hopes that current clients trading on other marketplaces will be encouraged to start selling on Rakuten's Play.com as well.
"Our unmatched capability in dynamic repricing is one of the key reasons for clients working with Seller Dynamics. Now that we're offering the same for sellers on Rakuten's Play.com, we would certainly encourage those clients to expand their offerings onto this marketplace and beyond."
---------- End ----------
For further information contact Seller Dynamics
at +44 (0)1786 430076
or email steve.boland(at)sellerdynamics(dot)com
Note for editors:
About Seller Dynamics: Seller Dynamics is dedicated to helping retailers maximise their sales and profits online, by utilising the power of marketplaces such as Amazon, eBay, Play.com, and Fnac.com. With Seller Dynamics, retailers can list their entire product portfolio on these marketplaces, reaching a global audience of billions, while simplifying their overall business management through Seller Dynamics' powerful inventory management and dynamic price management tools.
Seller Dynamics is a brand of Objective Associates Limited, a leading software and web development agency based in Stirling, Scotland. The company offers Seller Dynamics on a commission based model together with a modest set up fee. Formed in 2002 with a background in class-leading enterprise-grade software development, the company has significant expertise in the design and development of robust and scalable software systems utilising the Microsoft Platform and related technologies.